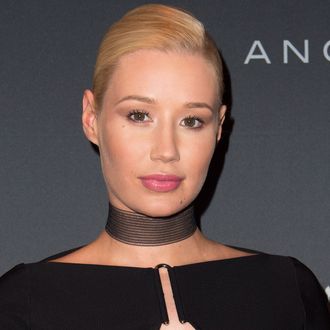 Oh, hey.
Photo: VALERIE MACON/AFP/Getty Images
For better or worse, Iggy Azalea has returned … again. After much start and stop with her indefinitely delayed sophomore album Digital Distortion, she's back with her first new song since last year's "Team." "Mo Bounce" has dropped on Beats 1 ahead of schedule because the urge to booty shake waits for no one. And if you thought complaints of cultural appropriation had run their course for Azalea, just wait until New Orleans gets a load of this song, as it borrows heavily from the city's bounce style of hip-hop. In an interview with Zane Lowe, Azalea further clarified the reason for her next album's wait, saying it's because she started from scratch. "I promise you I had my whole record down and I scrapped the entire thing. It was good stuff, it's not even that it was bad!" she swears. "I just had a lot of life changes right before I was supposed to drop my album, and I thought, 'You know what? This is no longer reflective of what I want to say or what I want to talk about or who I am.'" For now, she'd much rather talk about the moneymaker.

And here's its twerk-filled, Asia-set video.