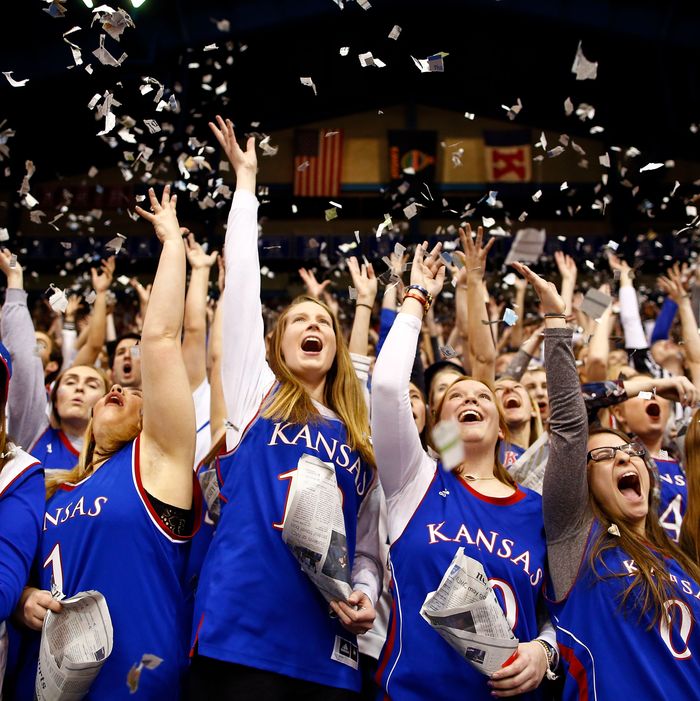 Photo: Jamie Squire/Getty Images
Stretch out those pretending-to-work muscles: March Madness begins this week, bringing with it an array of daytime games. Want to follow along as you get disproportionately excited about maybe winning $100 in your bracket pool? Here's where to find all 36 First Four and First Round games, and how to watch them from anywhere you get phone or internet service.
In short: Every game will be televised on either CBS, TNT, TBS, or TruTV. You can watch online through the March Madness hub or via the NCAA March Madness Live app, though only games on CBS are viewable without a password. If your team is playing on another network, you have a three-hour window to watch for free before you need to sign in with your cable password. And while you can stream through your Roku or Apple TV, you'll only be able to watch games not televised on CBS, since that network doesn't play nice with third-party devices.
CBS
(TV; ncaa.com/march-madness; CBS All Access; March Madness Live app via smartphones, tablets, or computers)
March 16
12:15 p.m.: Notre Dame (5) vs. Princeton (12)
2:45 p.m.: West Virginia (4) vs. Bucknell (13)
7:10 p.m.: Villanova (1) vs. Mount St. Mary's (16) / New Orleans (16)
9:40 p.m.: Wisconsin (8) vs. Virginia Tech (9)
March 17
12:15 p.m.: Michigan (7) vs. Oklahoma State (10)
2:45 p.m.: Louisville (2) vs. Jacksonville State (15)
7:10 p.m.: Dayton (7) vs. Wichita State (10)
9:40 p.m.: Kentucky (2) vs. Northern Kentucky (15)
TNT
(TV; ncaa.com/march-madness; Watch TNT app or March Madness Live app via smartphones, tablets, or computers)
March 16
1:30 p.m.: Butler (4) vs. Winthrop (13)
4 p.m.: Minnesota (5) vs. Middle Tennessee (12)
6:50 p.m.: Maryland (6) vs. Xavier (11)
9:20 p.m.: Florida State (3) vs. Florida Gulf Coast (14)
March 17
1:30 p.m.: Arkansas (8) vs. Seton Hall (9)
4 p.m.: North Carolina (1) vs. Texas Southern (16)
6:50 p.m.: Kansas (1) vs. North Carolina Central (16) / UC Davis (16)
9:20 p.m.: Miami FL (8) vs. Michigan State (9)
TBS
(TV; ncaa.com/march-madness; TBS Mobile app or March Madness Live app via smartphones, tablets, or computers)
March 16
2:00 p.m.: Gonzaga (1) vs. South Dakota State (16)
4:30 p.m.: Northwestern (8) vs. Vanderbilt (9)
7:20 p.m.: Saint Mary's (7) vs. VCU (10)
9:50 p.m.: Arizona (2) vs. North Dakota (15)
March 17
2:00 p.m.: Oregon (3) vs. Iona (14)
4:30 p.m.: Creighton (6) vs. Rhode Island (11)
7:20 p.m.: Duke (2) vs. Troy (15)
9:50 p.m.: South Carolina (7) vs. Marquette (10)
TruTV
(TV; ncaa.com/march-madness; Watch TruTV app or March Madness Live app via smartphones, tablets, or computers)
March 14
6:40 p.m.: Mount St. Mary's (16) vs. New Orleans (16)
9:05 p.m.: Kansas State (11) vs. Wake Forest (11)
March 15
6:40 p.m.: North Carolina Central (16) vs. UC Davis (16)
9:05 p.m.: Providence (11) vs. USC (11)
March 16
12:40 p.m.: Virginia (8) vs. UNC Wilmington (9)
3:10 p.m.: Florida (4) vs. East Tennessee State (13)
7:27 p.m.: Purdue (4) vs. Vermont (13)
9:57 p.m.: Iowa State (5) vs. Nevada (12)
March 17
12:40 p.m.: Baylor (3) vs. New Mexico State (14)
3:10 p.m.: SMU (6) vs. Providence (11) / USC (11)
7:27 p.m.: Cincinnati (6) vs. Kansas State (11)/Wake Forest (11)
9:57 p.m.: UCLA (3) vs. Kent State (14)