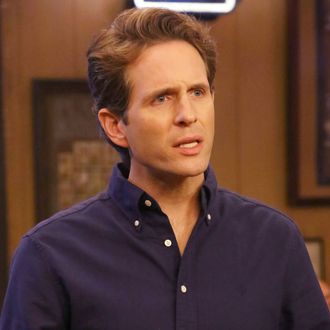 Glenn Howerton.
Photo: Patrick McElhenney/FXX
Two shocking things went down in last night's It's Always Sunny season finale: The waitress finally hooked up with Charlie, and Dennis was confronted with the child he didn't know he had and decided to leave his life in Philadelphia. Given the sitcom's love of the status quo, it might seem totally plausible that Dennis — and Glenn Howerton, the actor who plays him, and created and writes for the show — will slip right back in with the gang for Sunny's future seasons (FX has already ordered seasons 13 and 14). But in interviews after last night's episode, Howerton has been more cagey about Dennis's fate. Howerton told Uproxx:
It's a little complicated…It's not entirely certain whether I am or am not. I might be. I might be, but I might not be. That really is the truth. Just to be clear, to dispel any potential weirdness, it has nothing to do with my relationship to anyone on the show or Rob or Charlie or anyone like that. It's partially a creative and personal decision. We may be taking an extended hiatus between season 12 and season 13. So I'm certainly staying open to the possibility of doing more, but there is a possibility that I will not.
Speaking of potential scheduling conflicts, the news broke just after last night's Sunny episode that Howerton had signed on to an NBC pilot with Patton Oswalt. While his Sunny co-star Kaitlin Olson also stars in Fox's The Mick and it's technically possible for Howerton to work two shows at once, his pilot is for NBC, which is entirely outside the Fox/FX domain, and his Sunny obligations tend to be more time-consuming than Olson's, as he also produces and writes for the show. Cue the Sunny episode where the gang tries to sabotage NBC in order to get Dennis back.