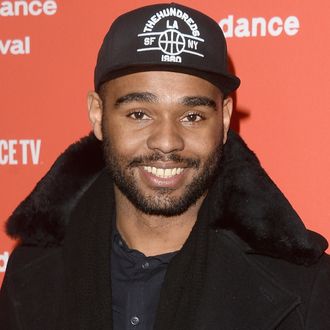 Photo: Matt Winkelmeyer/Getty Images for Sundance Film Festival
According to Deadline, director J. D. Dillard is in talks with Fox to write and direct a resurrection of the horror classic The Fly. The original movie was directed by Kurt Neumann and debuted in 1958, with the first remake coming from David Cronenberg in 1986. Both of those movies are classics in their own right, and Dillard — whose modern-superhero, sci-fi-tinged drama Sleight hits theaters next month — is the second buzzy director this year to take over a major studio property after starting their career in genre movies.
As the cultural cachet of horror films has increased in recent years, so too has the desirability of young directors building their resumes in the genre space. Uruguayan director Fede Alvarez found great success reimagining the cult classic Evil Dead in 2013, and he hit even bigger with last summer's Don't Breathe. (A sequel has already been announced, with Alvarez attached to return as director.) Those combined efforts impressed Sony executives enough to land him in the captain's chair of the studio's long-delayed continuation of Stieg Larsson Millennium series. Yesterday, Alvarez's The Girl in the Spider's Web got a release date of October 15, 2018, so it sounds like it's really happening this time.
Another iconic horror property, Halloween, was recently dusted off when John Carpenter himself announced that the franchise would be brought back, with David Gordon Green signed on to direct and his Eastbound & Down and Vice Principals collaborator Danny McBride lined up to write the script. Two comedy men taking on a horror classic might not seem intuitive at the outset, but consider the massive success of Jordan Peele's Get Out. Horror filmmakers these days are blending the genre more freely with comedy, satire, overt social messaging, and quality dramatic performances, which has made for more dynamic and critically acclaimed horror films. In turn, filmmakers working in historically stigmatized genre fare are now putting out movies that generate enough commercial and critical success to impress studio heads.
And that takes us back to Dillard, whose upcoming horror movie Sweetheart got a green light before news of The Fly negotiations broke yesterday. Sweetheart will be Dillard's second movie with Blumhouse Productions, the same studio that produced Get Out and that will be co-producing Halloween. Putting smart, surprising talent in charge of high-stakes projects — such as a Carpenter-blessed update of his seminal slasher, a sci-fi/horror touchstone such as The Fly, or a should-have-been-huge franchise like the Millennium series — shows that people responsible for signing checks are willing to bank on enterprising young horror directors (or take chances on comedic wild cards) to make them a lot of money.
Paramount recently canceled production of its planned Friday the 13th revival, and rumors attribute the shutdown to a ballooning budget and poor reception for another recent horror-legacy picture, Rings. But if Paramount is serious about bringing back Jason Voorhees, perhaps it should consider the Blumhouse style of keeping overhead low, and maybe place a call to someone like Robert Eggers, David Robert Mitchell, or Karyn Kusama, and see if they bite. The film properties may be old, but there is an emerging lot of directors with new ideas about how to approach horror, and they're bringing in a lot of dollars, along with good reviews. That could lead to a future in which these remakes are actually good, instead of just cash-grabs looking to hook fans with a familiar name.