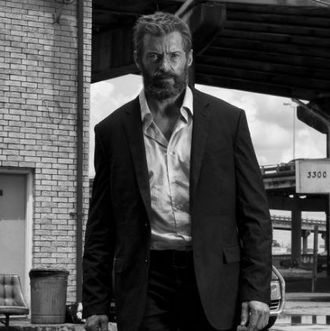 Hugh Jackman in promotional materials for Logan.
Photo: 20th Century Fox
Did you see Logan, like it, and wish only that you could relive the experience through the lens of a mythic dog? Well then, boy, is this James Mangold revelation relevant to your interests. Mangold, the director of Hugh Jackman's last ride as Wolverine, has shared that he is at work on a black-and-white version of the movie. Mangold previously used a black-and-white aesthetic for several of Logan's promotional materials. Additional details on the new cut are scarce; Mangold revealed the intent only in response to a fan's query, tweeting, "Workin' on it." Logan's morality will presumably remain gray.