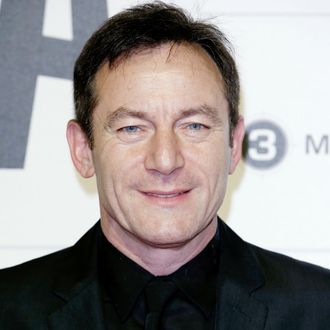 Aye Isaacs, captain.
Photo: John Phillips/Getty Images for The Moet Britis
Forget all your creepy villain connections with Jason Isaacs and get ready to call him "captain." CBS confirmed to Vulture today that Isaacs, who recently appeared in The OA but is probably best known for playing Lucius Malfoy in the Harry Potter series, will play Captain Lorca in CBS All Access' new series Star Trek: Discovery. While Isaacs will be the Starship Discovery's captain, The Walking Dead's Sonequa Martin-Green will play Discovery's lead character, a lieutenant commander. Michelle Yeoh is also in the cast, playing the captain of another ship, Shenzhou. Long before Discovery, Bryan Fuller, who was originally involved in the series before leaving last fall, said that his dream captain would be Angela Bassett, who Isaacs definitively is not. Discovery will be the first Trek series to focus on a character who isn't the highest-ranking officer, so it's not clear how involved Isaacs will be in the show in the first place. Should you worry about Captain Lorca's fate? Maybe! But Star Trek: Discovery doesn't have a premiere date yet, so wait for that to come out first.