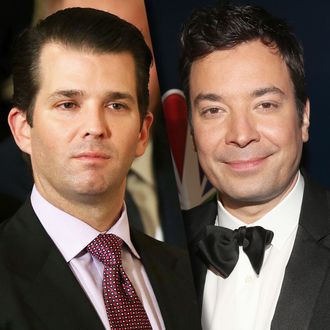 Congratulations are in order to Jimmy Fallon (and his merry band of Tonight Show writers), who have officially solidified themselves as the Trump family's late-night entertainment of choice. As if that infamous September hair-petting incident shared between Fallon and now-President Trump wasn't enough to bring you to that conclusion already, Trump's eldest son, Donald Trump Jr., has expressed delight over a recent Tonight Show video clip that gently mocked his recent New York Times profile — which was accompanied by a widely ridiculed photograph of him sitting unusually on a stump, staring into the distance in the woods, while wearing a flannel shirt. That image served as the Tonight Show's inspiration for a fictional product called "The Trump Stump," which was tied into Fallon's opening monologue on Wednesday's show.
Trump Jr. has lately seemed determined to prove he can take a joke — he recently commented on how he thought Saturday Night Live's impression of him was amusing, and even offered up his services in the future.
While Fallon's apolitical and uncritical "host next door" silliness has generally served him well in the ratings, biting political commentary on the Trump administration has helped The Late Show With Stephen Colbert recently surge past him for the first time since 2015; though, of course, Fallon's audience still remains very strong despite some significant drops in viewership over the past year. Unsurprisingly, this "Trump Bump" has also positively affected SNL, which has reported its highest viewership numbers in years, thanks in part to Alec Baldwin's consistently scathing portrayal of President Trump. Numerous other television stars have also seen their ratings soar due to their constant Trump coverage. Still, Fallon seems to be sticking to his relatively gentle treatment of the Trump family, ensuring that at least for now, he's got a spot on Trump's stump.