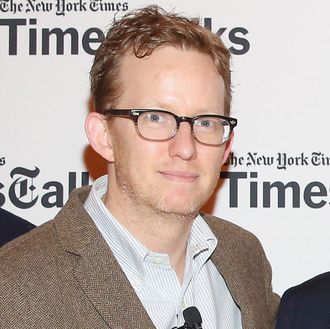 A.D. Miles
Photo: Mireya Acierto/Getty Images
Change is coming to The Tonight Show Starring Jimmy Fallon. Head writer A.D. Miles, who's been working with Fallon since 2009, will leave the show within the next few weeks, Vulture has learned and NBC has confirmed. While the news comes as Fallon faces an increasingly fierce ratings challenge from CBS rival Stephen Colbert, people familiar with the situation say Miles had been mulling his departure for months as he looked to return to his former home in Los Angeles and refocus his career on performing. What's more, there doesn't appear to be any bad blood between Fallon and Miles: The duo say they are working together on an animated feature film to be produced by Fallon.
In a statement, Fallon expressed gratitude for Miles's nearly decade-long work on both Late Night and Tonight. "Miles was there for the launch of Late Night as well as the launch of The Tonight Show. He is one of the funniest, most creative people I've ever met, and I can't wait to work on this next project with him," Fallon said. "He's family to us, and we are gonna miss him." For his part, Miles underscored his continuing collaboration with Fallon even after he leaves New York and Tonight. "Riding Jimmy Fallon's coattails for the past eight years has given me all the confidence I need to strike out on my own and work on a movie with Jimmy Fallon," he said. It's certainly logical Miles would be interested in exploring opportunities as a writer and performer, given his career prior to hooking up with Fallon on Late Night back in 2009. Before his late-night days, Miles was a fixture of the alternative-comedy scene (he and Zach Galifianakis were roommates for a while) and a frequent collaborator with David Wain. Even as he served as head writer for Fallon, Miles recently was seen reprising the role of Gary in the Wet Hot American Summer TV series on Netflix.
It's also not particularly shocking Miles would call it quits after eight years doing the late-night grind. There are examples of top writers lasting a year of two before leaving a show or being promoted to executive producer — as well as examples such as Mike Sweeney, who has been Conan O'Brien's head writer since 2002. The changing content of network late-night shows may contribute to creative types feeling exhausted sooner. Whereas in past years, a Tonight Show head writer would focus on churning out monologue jokes, Miles — even in his Late Night days — was more involved in crafting Fallon's signature sketches and comedy bits. That made his role more similar to a head writer on a cable show such as The Daily Show, where turnover has tended to happen more frequently.
That said, the news of Miles's departure comes as Fallon is experiencing the first stretch of bad — or, at least, less good — ratings reports since he took over Tonight. After handily besting the competition for years, Fallon has seen his numbers dip since the election, and since President Trump's inauguration, Colbert has consistently beat him in overall audience. But while things have gotten closer, Fallon is still well ahead with viewers under 50 (the ones that translate into ad dollars). And over the past two or three weeks, Fallon has once again started closing the total viewer gap with Colbert. Nonetheless, losing is still losing, and Fallon — along with every late-night host ever — has a history of being competitive.