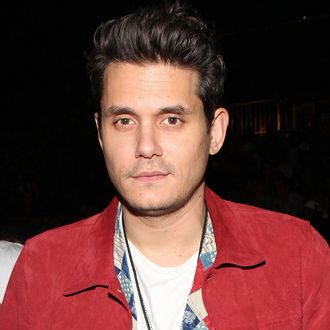 John Mayer.
Photo: Bennett Raglin/Getty Images for D'USSE
John Mayer, who once compared his penis to a white supremacist and used the N-word in the same interview, would like you to know that he's thinking very seriously about cultural appropriation. In a lengthy, apology-filled New York Times profile, the 39-year-old guitarist tried to emphasize that he has left his worst moments — specifically the Rolling Stone and Playboy interviews he refers to as "probably the photonegative shot in 'Behind the Music'" — behind.
To that end, John Mayer would like to emphasize that he is now super woke. A guitar riff in "Still Feel Like Your Man," which is about his ex Katy Perry, reminded him of "ancient Japanese R&B," and so he decided to model its video around that concept — but, of course, in what he feels is a respectful way. The video features what Mayer calls a "disco dojo," which includes a bamboo forest, a woman dressed as a geisha, and two people in panda suits (pandas are native to China). "Part of cultural appropriation is blindness," Mayer told the Times, noting that, "I'm on the right side of the line because it's an idea for the video that has a very multiethnic casting, and nobody who is white or non-Asian is playing an Asian person." Later, he adds that he does think that someone will "tweet that this is cultural appropriation," (even if you're using Asian actors, you're still using Asian culture simply as an aesthetic background, John), and that "it's going to be interesting to see," (oh, it will).
While not defending his thoughts about disco dojos, Mayer is also looking for love. He's fiddling around on an exclusive dating app (probably Raya), but finds that "it's just lot of chatter. We all talk to the same people. There are very few people actually meeting up." Still, he longs for "the baby with the protective earphones" who will watch him lovingly from the side of the stage. If you are a person who wants to provide John Mayer with that baby, or help him on his quest to be woke, you can find him "living out of a hotel" near you.