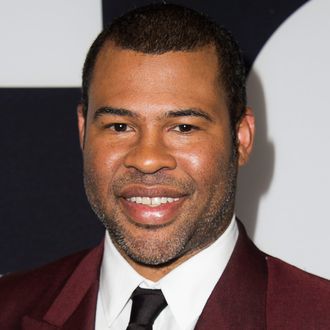 Say it ain't so.
Photo: VALERIE MACON/AFP/Getty Images
Now that Jordan Peele has a hit movie under his belt with Get Out, he's officially gotten out of the world where he got his big break. Key & Peele went off the air in 2015 — and now you'd probably have to kidnap and brainwash Peele before he ever went back to the sketch-comedy world. Peele, who's always maintained that he fell into comedy on the road to making films, has confirmed to The Hollywood Reporter that his sketch-comedy career is indeed finished. He wants to "focus on writing, directing and producing" instead of playing Barack Obama forever. (When they announced the show's end, Peele said it was "time for us to explore other things, together and apart. I compare it to Gene Wilder and Richard Pryor. We might make a movie and then do our own thing for three years and then come back and do another movie.")
In fact, Peele says he's so over comedy he hasn't even had the urge to mock Donald Trump. "I'm sure I'd have a fun time [impersonating Donald Trump] if I did, but I'm happy to not be in sketch comedy right now," he says. Pour another one out for all the wigs, costumes, and parody songs collecting dust in the Key & Peele graveyard. But also take comfort in knowing that, just because Obama might be on an extended vacation, Peele's impression never stops working.