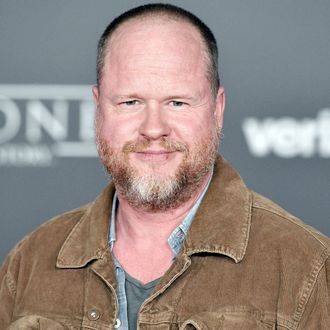 Joss Whedon.
Photo: Mike Windle/Getty Images
Just when you feel like you're about to hit the ten count on the DC Extended Universe, Warner Bros. picks itself up off the mat, ready to dive back into the fight. Variety is reporting that Joss Whedon will write, direct, and produce an untitled Batgirl solo movie for the DCEU. Yes, that Joss Whedon, the one who tied together the Marvel Cinematic Universe and set the creative tone for Disney's ultrasuccessful interconnected financial behemoth. After directing The Avengers, Whedon became Marvel's guru, "their sort of consigliere" as he put it in an interview last year. During that same conversation he explained the extent of his role, and why he decided to walk away following Age of Ultron. "I sort of had my finger in all of the films in the second phase. But then I just had to concentrate only on Ultron, and sort of know that when it was done I was just going to stop," Whedon said, adding that "It was five years that I was working on either an Avenger or S.H.I.E.L.D. … That was an enormous gift they gave me. They handed me several hundreds of millions of dollars and said, 'Do what you do.' Which is very rare, and I was very lucky. But at the same time, it's important for me not just to have my own thing and do something smaller, but also to create a new challenge for myself because I will start to repeat myself."
Whedon also expressed frustration with the Age of Ultron shoot, and getting the cut of the film he wanted. If he's willing to throw himself back into the big machine of the superhero business, perhaps DC was willing to offer him — in addition to a money printing machine — an extremely generous amount of creative control. The DCEU has very publicly struggled since launching in earnest with Dawn of Justice last year. That movie, like Suicide Squad, raked in cash, but was a critical disappointment. As we wait for Wonder Woman this year and Justice League to hit later this year, we've also been witness to a subplot of intrigue around the solo Batman movie, which Ben Affleck withdrew from as director, though he will continue to star as the Dark Knight. (The Flash also lost its original director, Rick Famuyiwa.) With all the restructuring at DC and the poorly reviewed, super-expensive efforts coming out of Warner Bros.' respective first phase of its extended universe initiative, many worry whether or not League and Wonder Woman should already be consigned to the "better luck on the next one" pile.
That's why hiring Whedon feels like a massive pivot, and something like coming to audiences hat in hand and asking for another chance. The DCEU initially tried to distinguish itself as the darker, edgier sibling to Disney's shiny Marvel stories, but bringing on Whedon feels like an admission that that endeavor didn't work out as planned, and now they are focused on making movies that people might actually like, from the mind of a director who's proven to be a real crowd pleaser on large screens as well as small ones. Crucially, Whedon also knows how to write a damn good female lead (see Buffy and Firefly), and after Suicide Squad the DCEU needs to establish that it understands super women can be more than really hot (hat tip, Margot Robbie). The last time we saw Batgirl in theaters she was played by Alicia Silverstone and drenched in the primary hues of Joel Schumacher. It's about time she got a modern update, and it's about time DC really got in the game and became a legitimate challenger to Marvel. When superhero franchises compete, we win.