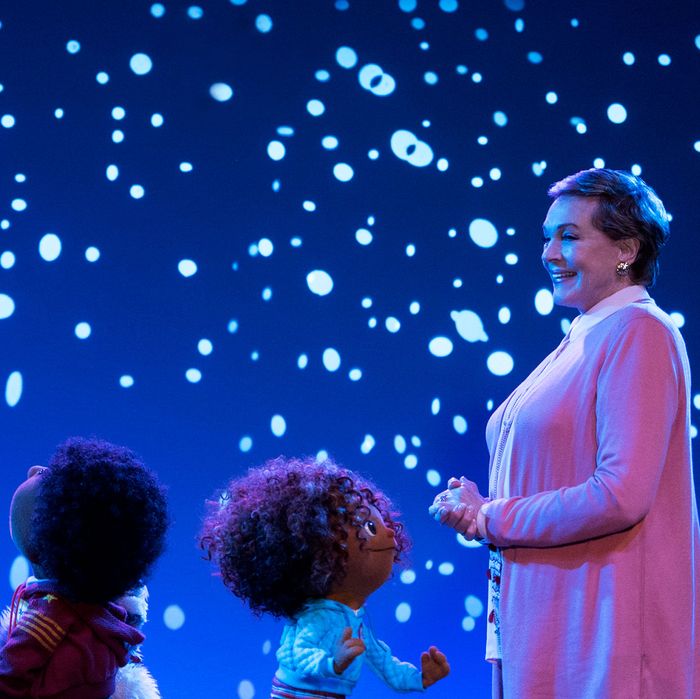 Ms. Julie and her Greenies.
Photo: Ali Goldstein/Netflix
Julie Andrews loves working with puppets. In the new Netflix series Julie's Greenroom, the puppets in question come courtesy of the famous Jim Henson Company. They're a collection of children, known as Greenies, who are putting on a show in a small theater with the help of Ms. Julie (Andrews herself) and her assistant Gus (Giullian Yao Gioiello). The Greenies have a variety of different backgrounds and interests, including one puppet who operates a wheelchair — and because, according to Julie Andrews, every theater needs a duck, there is also a duck.
The experience of working with the Greenies is joyful, Andrews said in an interview with Vulture, the puppeteers operate them with joy. She and her daughter, the writer and arts advocate Emma Walton Hamilton, who co-created Julie's Greenroom with Andrews and Judy Rothman Rofé, hope that joy rubs off on you — or more importantly, on your children. The series also includes guest cameos from the likes of Idina Menzel, Alec Baldwin, and Carol Burnett, offering both a kid-friendly tour of the performing arts and an argument about their importance. Ahead of the show's March 17 premiere, Andrews and Hamilton sat down to talk about defending the arts in "the most subtle, but overt way," why it's important to get kids into art while they're young, and how they cast Ms. Julie's assistant.
In this show, you're focusing so much on promoting arts education …
Julie Andrews: Trying to in the most subtle, but overt way. Hopefully without everybody knowing that we're hammering them on the head with it.
Why do you think it is so important?
Emma Walton Hamilton: As an artist and arts advocate, we know firsthand all the statistics that you hear about. The arts are the most uniquely suited to provide young people with critical-thinking skills, problem-solving, teamwork and collaboration, empathy and tolerance and compassion, looking at the other point of views.
JA: They are the safest bridge to other cultures and other worlds that you could possibly cross.
EWH: They're unifying or they're not, depending on how subversive or how controversial they are. They level the playing field and they open your mind in a way that nothing else does. So, from our point of view, the earlier you start with that, the better. Because kids get comfortable with it or get exposed to it, get curious about it, or excited about it. If you wait until you're an adult to be exposed to the arts, it could seem elitist, it could seem out of reach, it could seem scary.
JA: The fact that so much funding is cut, it does give you pause. A lot of people think it's frivolous, and it is not at all. It's essential.
EWH: Well, that is what they say, but I think what they really think is that it's threatening. It's easy to say that's frivolous and meaningless, but underneath, it's potentially threatening and so let's just put a lid on that.
The Trump administration is talking about cutting funding for the National Endowment for the Arts.
JA: Prime example of what we're talking about. They just don't get it. 'Twas ever thus in England, too.
EWH: We hope by aiming our program at a young audience — although we really hope it's a family experience — that we are nurturing and cultivating, not just the artists, but the arts appreciators and the audiences.
It's interesting how you include a character who is a donor to the theater, eventually revealed to be Carol Burnett, which emphasizes the financial realities of making art.
JA: Well, funnily enough, she's an important one. The arts need funding. She's our benefactor, and she plays our wacky benefactor.
EWH: We chose to set the show in a small community-theater-type setting, in a regional, or rural, or suburban environment rather than a major cultural institution, because not everybody in the country can get to Broadway or can afford Broadway.
JA: They certainly can't these days.
EWH: But there are these small community theaters. There are these regional theaters, and cultural centers all over the country, all over the world. They do need to be supported by patrons. But they are accessible, or should be accessible. We want to make that case. Hopefully we get people curious about going out and exploring their local community center.
Let's talk about the puppets. They're so charming, and you got to work with the Jim Henson Company in making them.
JA: All of it has been an indulgence in the arts for us, hasn't it? Just joyful, watching the designers …
EWH: Learning about puppetry. The art of puppetry and what these puppeteers do.
JA: If we get a second season, which we hope we do …
EWH: We're going to devote a show to puppetry.
JA: Of all kinds! Marionettes …
EWH: These puppeteers, they are, first of all, they are athletes in a way. Because they are standing all day with their arms up in the air, watching a monitor. Reading their scripts, voicing the puppet, manipulating the puppet with facial expressions, with eyes opening or closing, hands moving, and nine times out of ten, sliding around on little wheelie-carts and navigating each other.
JA: The wheelchair one alone is manipulated by two people, and with joy. I mean, they're unsung heroes. They really are.
The series moves through each step in the process of putting together a show, from casting onward. How did you decide what to focus on in each episode?
EWH: We had been asked by Netflix to serialize the episodes to tie them together. So when you're doing a show about the arts, the ending naturally cries out to be the show. Then, the arts that we're focusing on should be the building blocks of putting on that show. We worked backwards. We knew that if the last episode is the show, then the second to last episode should probably be dress rehearsal, which would be the technical stuff backstage.
JA: And a disaster, because it always is.
You have an assistant on the show named Gus. What did you look for in casting him?
EWH: We were specifically looking for a few things. We were looking for youth.
JA: A young man, to identify with the kids, if I didn't.
EWH: And a different gender. So we were looking for young and male and hopefully, with a diverse cultural background.
JA: And talented.
EWH: Julian is half-Chinese, half-Italian. And he needed to be able to sing and dance.
He gets to sing, and sing with you.
EWH: This guy can sing, he can play guitar, he can juggle, he can beatbox. He just blew us away, and he's adorable.
JA: The kids are going to fall in love with him. They're going to fantasize and think he's so swell. He can do things that I can't. I can be a good mother and give the hugs and the TLC …
EWH: And somebody had to do the heavy lifting backstage. Ms. Julie can't. So he's really the stage manager.
JA: We compress enormously. It takes a lot more people than that [in a real production]. But this show is just fine.
When it comes to opening people's minds to the arts, especially kids' minds, what other shows or art forms do you think they should seek out?
EWH: Well, Hamilton. That's first and foremost.
JA: Just anything. I'm hoping that they'll find out, or a parent will find out, what turns their child on by watching this series. If the child said, "I liked STOMP best and I liked the banging on the box and the drums and the this and the that," then you lead them in that direction. For me, it was everything from classical music to reading, and ballet was so essential. But it was hard because we couldn't beat people on the head with it. You could've done a vast show. You could've done an hour on the ballet. We only had so many minutes!
EWH: What we really would love the most, our absolute hope for this show, is that kids and families will watch the show together and that it will inspire curiosity in them to go out and investigate further whatever aspect of the arts turns them on. Maybe it's experimenting with the arts themselves, or maybe it's as an audience member. Or I don't know, become an arts writer. There's something in it for everyone.