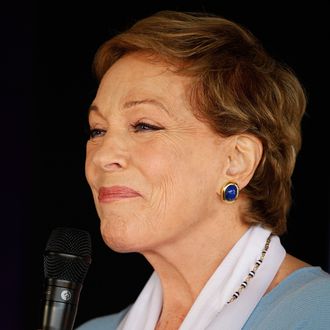 Dame Julie Andrews.
Photo: Brendon Thorne/Getty Images
Much outrage has already arisen regarding the Trump administration's proposed budget, which would slash major endowments for the arts and PBS (among many, many other things) in favor of defense spending and …well, that's it, really. And while this budget is not yet a foregone conclusion, it's likely that arts funding will not exactly be top priority. Which is why celebrities are already rising up in defense of the arts in many ways: tweeting, speaking out on TV, and, in the case of treasure Dame Julie Andrews, writing an impassioned, elegant op-ed for CNN.
In it, Andrews, a legendary performer and children's book author, talks about her own experiences benefiting from and seeing others benefit from art. Andrews's daughter, Emma Walton Hamilton — herself a theater producer and co-author of aforementioned books — co-wrote the essay with her mother.
Together, the two write about not only the emotional and spiritual effects of the arts, but the economic effects as well:
[The arts] foster collaboration and creativity, essential skills for navigating in the workplace and surviving in a challenging world. They cultivate empathy and tolerance, by bridging cultural and socioeconomic divides. They're also good for business: They spur urban renewal, promote tourism, and generate hundreds of billions of dollars in economic activity annually.
The duo go on to say that "it has never been more critical to advocate for and support the arts," and they urge everyone to "do everything possible to preserve and advance this most precious and essential resource, and demand that our elected representatives do the same." And when Mary Poppins asks you to do something, you do it. She's a damn dame, after all.
Read the op-ed in full here.