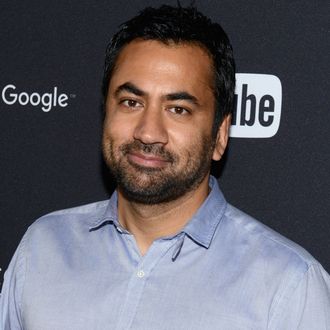 Kal Penn.
Photo: Noam Galai/Getty Images for Global Citizen
As Master of None's Aziz Ansari and many other South Asian writers and actors have discussed, Hollywood loves the "Apu accent," the voice of the Simpsons character shared by so many cab drivers, IT workers, and mystical shamans in American movies and TV shows. While trying to make it in Hollywood, Kal Penn auditioned to play many of those characters, and as he explained on Twitter today, he was nearly always asked to do that same old accent. Penn kept the receipts on some of the worst offenders, including a request for a "Gandhi look-alike":
Here's how he learned that "authentic" means the Apu accent.
There was a pilot where the quirky lab buddy just needed an accent.
Why not write in a "foreign student" to get at some good sweatshop jokes?
King of Queens is a lot less funny when it's making fun of people's names.
The "sweaty unwashed look" is another hallmark.
Sabrina the Teenage Witch was also looking for an accent, and a character whose awkward grammar is funny.
Penn went on to shout out the shows he's worked on that were looking for more than just Apu, including Buffy, 24, and House, before heading back to work on Designated Survivor, where he plays a White House press secretary who does not have an accent.