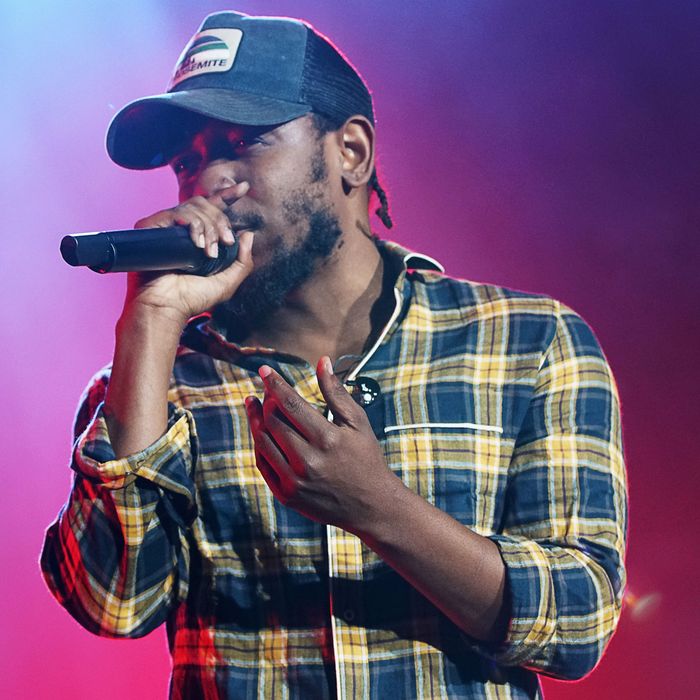 Kendrick Lamar.
Photo: Bennett Raglin/Getty Images
Kendrick Lamar wiped his Instagram this week and posted (and swiftly deleted) a photo of the Roman numeral IV, which is all any artist of his stature needs to do to set the internet ablaze. Rumors swirled that he was advancing the rollout of his fourth studio album to swipe some thunder out from under Drake's More Life, the same way To Pimp a Butterfly vacuumed the hype out of If You're Reading This It's Too Late a month after its release in 2015. Turns out the Compton rapper was giving a quick warning for the impending release of "The Heart Part 4," the latest track in a series that stretches back to the launch of his 2010 mixtape (O)verly (D)edicated. It's a clever conceit: Kendrick reintroduces himself to the fandom before each major career move. Parts 1 and 2 presaged OD with breakneck lyrical dexterity from a kid rap fans weren't quite wise to just yet. Part 3 bounced dazzling bars off Kendrick's Black Hippy partners Jay Rock and Ab-Soul days before his major label debut good kid, m.A.A.d city.
"The Heart Part 4" opens with Kendrick running capable warm-ups over a warm AOR shuffle, but a beat change about a minute in reveals his true intent, as Lamar blurts out, "My fans can't wait for me to son your punk ass and crush your whole little shit." "Part 4" is a diss track, for fellow rappers, for Donald Trump, for hidden Russian operatives believed to have helped sway our election. Fans haven't come to a consensus about which rapper(s?) inspired the three-minute flurry of insults on the back end of the song. Timing and phrasing would suggest Drake. There's a stray line in the OVO head's new song "Gyalchester" ("I know I said I'm top five, but I'm top two / And I'm not two, and I got one") that might bait Kendrick into declaring himself "the best rapper alive" while More Life is still fresh and generating conversation. There are also lines in Kendrick's song that suggest he's angling for Big Sean. (In his 2016 track "No More Interviews," Sean rapped: "I'm just not impressed by you niggas rapping fast / Who sound like one big asthma attack but trash when I'm rapping it back." A series of snippy lines about size in "Part 4" could be a bit of toying around with Sean's nom de rap.) The truth is probably a bit of both.
What's clear in spite of the foggy who's and what's of "The Heart Part 4" is that Kendrick doesn't need to press these guys anymore. He already laid waste to most of his peers on "Control," showing Big Sean up on his own song. He sent multiple jabs at Drake and never heard back. He released two of the decade's best rap albums back-to-back and earned the reverence and fanaticism of two different generations of fans in the process. This is not a rapper who needs to remind people he ranks among the best practitioners of his craft. Announcing a new project with a diss track is a J. Cole move. "Part 4" spends too much time flipping off peers in Kendrick's rearview to access the core of the song series, which is lyrical excellence and pure heart. The Dash Snow and Roots sampling "Part 2" remains the best entry in the Heart series, and, in retrospect, it's a poignant rebuke to this new one: "We used to beefing over turf, fuck beefing over a verse / Niggas dying, motherfuck a double entendre." In its closing bars "Part 4" threatens to drop something else on April 7. Let's hope he's looking forward by then instead of punking lesser MCs for laughs.