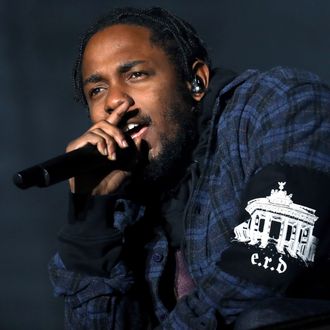 Wait, what?
Photo: Rick Kern/Getty Images for Samsung
It hasn't been that long since Kendrick Lamar's last album, but already he's making another. Speaking with T Magazine from his studio where he's been holed up, Kendrick says he's been thinking about "how wayward things have gone within the past few months," and has once again retreated inward to his family and community. Lamar says that his new album will be "very urgent," but because he didn't allow the writer to hear any tracks, he had to come up with some way of describing how it'll sound. Now if you thought To Pimp a Butterfly was too cerebral (see all those Lucy metaphors), just try to wrap your head around this explanation:

This is what goes on in my mind as a writer. One day, I may have a little girl. And it's a girl in particular — funny you said that. She's gonna grow up. She's gonna be a child I adore, I'm gonna always love her, but she's gonna reach that one point where she's gonna start experiencing things. And she's gonna say things or do things that you may not condone, but it's the reality of it and you know she was always gonna get to that place. And it's disturbing. But you have to accept it. You have to accept it and you have to have your own solutions to figure out how to handle the action and take action for it.

"When I say 'the little girl,' it's the analogy of accepting the moment when she grows up. We love women, we enjoy their company. At one point in time I may have a little girl who grows up and tells me about her engagements with a male figure — things that most men don't want to hear. Learning to accept it, and not run away from it, that's how I want this album to feel."
And now you're put off parenting for good. Thanks, Kendrick.