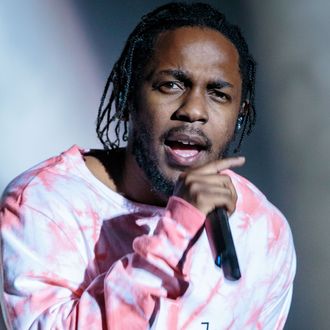 He's almost back.
Photo: SUZANNE CORDEIRO/AFP/Getty Images
Early Thursday morning, while you were asleep, Kendrick Lamar was wide awake, probably in a recording studio somewhere. Out of the blue, Kendrick has wiped his already quiet Instagram clean and left one new photo standing: a cryptic image of the Roman numeral four. No caption. No follow-up announcement. Just a casual hint that his fourth album may be imminent.

For those who lost count, Kendrick's Section.80, while originally released as a mixtape, was later officially recognized as his debut album. He's since released two other albums. That makes his next album, the follow-up to 2015's To Pimp a Butterfly, his fourth. (Last year's untitled unmastered was a one-off of outtakes from TPAB.) His Instagram is little to go by, but Tidal has also indulged in the hype, teasing that "New Kendrick Lamar is on its way." (It's worth remembering that Kendrick's last album was released a week early because of iTunes issues; could Kendrick's latest be a Tidal exclusive?) In any case, it's time to prepare for the inevitable: A new Kendrick Lamar album is coming. Here's what we know so far.

According to Kendrick in the only detailed interview he's given about the new album, it's going to be "very urgent" and informed by "how wayward things have gone within the past few months." It'll also have something to do with how he'd parent his hypothetical daughter someday, but we'll leave it up to you to interpret that long-winded analogy. The album also may involve Rick Rubin: In a joint interview with GQ last October, Kendrick told Rubin that he has "ideas and I have a certain approach. But I wanna see what it manifests. I wanna put all the paint on the wall and see where that goes. Maybe you can help me with that." The interview then ends with the two immediately going into the studio to record, despite this being the first time they'd ever met. Suspiciously, legendary producer Alchemist also tweeted and deleted the same Roman numeral that Kendrick posted on his Instagram this morning, fueling speculation that he's involved in the album.

More evidence to support the theory that a new Kendrick album is looming: His last two releases have come in March; it would appear Cornrow Kenny season has arrived. (He also headlines Coachella next month.) But if you're looking to get Top Dawg on the phone for more confirmation, uh, yeah, maybe don't: