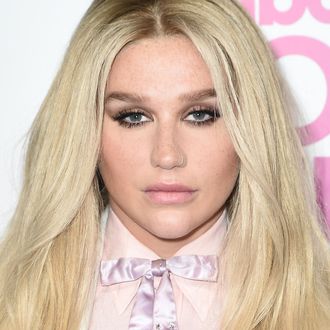 Kesha.
Photo: Nicholas Hunt/Getty Images for Billboard Magaz
As the legal war between Kesha and Dr. Luke wages on, his side has once again pulled ahead. In court on Tuesday, a judge ruled against Kesha's amended lawsuit against the producer. Recently, Kesha added new claims to her countersuit against Luke, who is suing her for defamation in response to her 2014 allegations of abuse, arguing for a third time that she should be released from her record contract, due to unpaid royalties and Luke's alleged refusal to support or release her next album. Luke's team said Kesha owes him money; now a judge has rejected Kesha's amended lawsuit. The judge reasoned that Kesha didn't give appropriate notice (30 days) to end her songwriting contract and didn't "perform under her recording agreement," and thus can't void her contract under the argument that Luke "breached the covenant of good faith and fair dealing" by allegedly abusing her.
Kesha's new suit claimed that Sony's deal with Dr. Luke is ending this month (as was previously reported), which would put the future of her music at even more of a standstill, but the judge found her claim too "speculative" and said Luke's label won't have the right to control her music after a third album is released. (When that will be wasn't mentioned.) In a puzzling detail, the judge also appeared to imply that Kesha should have known that signing with Luke could put her at risk for abuse: "With respect to the Prescription Agreement, signed in November 2008, Gottwald's allegedly abusive behavior was foreseeable."
The greatest blow to Kesha's fight for freedom, however — and one that The Hollywood Rerporter notes could become an "important issue that would impact all artists" if she fights it — may be that the judge has also shot down Kesha's attempt to use a California labor law to argue that her contract should've been terminated after seven years, because the suits are being battled in New York court.