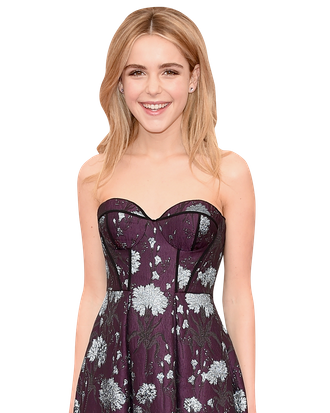 It's been nearly two years since Kiernan Shipka bowed out of her seven-season run on Mad Men as Sally Draper, one of the most nuanced and complex child characters to ever grace the small screen. Now, after a handful of credits in both film and television following Mad Men's finale — perhaps most prominently with a scene-stealing turn on Unbreakable Kimmy Schmidt as Kimmy's vicious half-sister — Shipka's back in a recurring capacity on Ryan Murphy's latest outing, Feud: Bette and Joan, as Bette Davis's daughter B.D. Hyman.
If you liked Shipka's Sally, you'll also enjoy her B.D.: They're both strong and quick-witted young women living in the '60s with complicated mothers, to put it broadly. Vulture recently called up Shipka to discuss Feud, why working with Ryan Murphy is so great, and what she thinks Sally Draper did when she grew up.
It was great to see your name included when Feud's cast was announced. How did you and Ryan Murphy become acquainted?
I auditioned for the show and then I got a call that said they wanted me. I was kind of flabbergasted. Oh, I haven't used that word in a long time. Flabbergasted. [Laughs.] To be quite honest, when I got the script and saw the people who were involved with the show, I didn't want to hype myself up because I didn't want to get too excited. I wanted to just talk myself out of it, like, Oh, this isn't going to happen. Just go out there and do your best job in your audition. But then a few days later, I get a call with the offer and was pretty shocked and so excited. It wasn't some long process that I got myself super nervous over, so in a way it was even more of a shock.
Feud's premise has piqued a lot of interest. Despite the series being set a half-century ago, it tells the very relevant story of the hardships women face in the entertainment industry.
Completely. I think Ryan and everyone involved in the making of the show shines such a light on how Hollywood has always pitted women against each other. Like you said, it's extraordinarily and very unfortunately relevant. To be a part of a show that I felt was making a statement, and a really important one at that, was really cool because I'm such a fan of it from the outside too.
It's like all of the women are simultaneously getting manipulated and acting as their own manipulators. It's interesting to watch those complexities unfold.
It's so wild. All of the actors do such a good job at portraying these women who are so immensely complex. It's an emotional roller coaster.
Have you ever drawn parallels between your characters on Feud and Mad Men? Both shows are set in the '60s and feature very dysfunctional relationships with mothers named Bette/y.
Oh God, that's so funny. [Laughs.] I didn't even think of that.
A slight change in spelling, though!
Very true!
Do you welcome these comparisons, or would you prefer it if people separate the two roles?
You know, I really don't care if people want to compare them, to be honest. Personally, I look at them as having different trajectories, but I definitely see the similarities with the eras and whatnot. A similarity that's very cool with both shows is that they really champion women and portray them as very real, complex, and deeply flawed humans, which is very cool to be a part of. That's the real honor at the end of the day.
It was also great to see the '60s fashion back on the small screen again. The outfits you wear are too chic.
It was so awesome. Lou [Eyrich], the costume designer, has worked with Ryan a lot and I've been a huge fan of hers for a long time. To work with her and watch her mastery at work was amazing.
Did you contact the real B.D. Hyman as you prepared for the role? I know she's living a quiet life in Virginia as a pastor.
Yeah, she's living a quiet life and living on the down low. I respect it. So I didn't try to contact her. I watched as much footage as I could and I read her book [My Mother's Keeper] and I immersed myself in her world, but I didn't reach out. Also, I've never played a real person before, and you kind of know what ends up happening with her and her relationship with Bette. So to capture them in a moment and not predict the future for them as characters, and to find them in a point of their life where they maybe didn't know their fate, was an interesting challenge. Obviously, B.D. says what's on her mind and a lot is going on in her mind that she doesn't say, too. Filling in those spots was fun homework to do.
Speaking of her book, one thing that struck me about Bette Davis and Joan Crawford is that they both had daughters who wrote extremely critical memoirs about them.
Isn't that really interesting? Any information is good information to sink my teeth into. What Olivia de Havilland says in the show, or Catherine Zeta-Jones technically, who brilliantly plays the character: "Feuds aren't about hate, they're about pain." I think you can apply that to so many things. It opens the world up in this interesting light. It gave me a lot of insight into how to figure out and navigate the relationship between B.D. and Bette. Obviously you know their fate in the end as mother and daughter, but to play more in the moment was an interesting challenge. You want to bring love to the scene, because in the end, they really do love each other.
This Sunday's episode sheds light on their relationship, with B.D. getting a role in Baby Jane even though she's not a talented actress. She and Bette wind up revealing a lot of vulnerability to each other. What do you think this says about their relationship?
B.D. may be stubborn and sassy to her mother, but this whole situation really shows her vulnerability and how she leans on her mom. I think she felt like she disappointed her mother. Bette's comfort and support was a really tender moment in what's often seen as a turbulent relationship.
What's it like to yell and be yelled at by Susan Sarandon?
It was a complete honor. She can yell at me anytime, any place. She's the best. I absolutely love her. I think her goal besides to absolutely slay this character is just to have a lot of fun, and she really commands the set and brings so much positive energy to everyone and everything when she's there. It makes for a really happy set. As far as an actress and human being, I really admired her. Being able to work with her closely was such a treat and a delight. I cannot say enough nice things about it.
Did you do some mother-daughter bonding before filming?
Like with most things unfortunately, it was a thrown-right-in situation. But thankfully, most of our meatier scenes came after the first episode, so we had time to get to know each other and grow a bit closer.
About a year ago, I interviewed Murphy-universe staple Lea Michele, and she said something that stuck with me: "Nobody knows how to write for women better than Ryan Murphy." Would you agree with that?
I think Ryan is one of the most admirable, cool, brilliant people ever. And I think … you said Lea Michele said that?
Yeah.
Yeah, she's great. I think that's so spot on. He's absolutely a champion of women, and he writes them in such a beautiful and complex manner. He admires them so much. It shows onscreen and it shows behind the screen. He has the Half foundation, which is doing amazing work on sets. I've worked with amazing female directors and female crew members and it was a really balanced set in a beautiful, synergistic way. It makes the show that much better because so many walks of [life] and perspectives are behind it.
I'd love to know what the future holds for you. You've done both film and television work, but do you have a preference going forward? Is there a dream role that you'd want to have?
I'd love to know what the future holds for me too. [Laughs.] Right now I'm taking things on a day-by-day basis. We wrapped the show a few weeks ago, so I've been doing some classes right now and I just got a puppy, so I'm in mom mode. I'm living my life right now! I have a few projects that are semi-lined up that I can't discuss, but who knows when they're going to go. But as far as television or film, the medium matters so much less to me than the quality. Wherever the cool project brings me, I'm happy to do it.
Have you and Ryan discussed appearing in one of his other shows? I can totally see you kicking ass on Scream Queens.
Sign me up, I'm all his. I'm there. I would love to work with him again.
I'd like to pose one Mad Men–related question, if you wouldn't mind. I'm curious how you interpreted Sally's ending, with her washing the dishes as Betty smokes at the kitchen table. How do you imagine Sally lived the rest of her life?
I always think about that. I really do. I cry literally every time that I think of this line, what Betty tells Sally in her good-bye letter: "I know your life will be an adventure." I like to think that ended up happening to Sally. She probably took on some responsibilities and lived her life in an adventurous and wild and cool way. I think, in the end, she would circle back to doing something important. I really do hope that she had some fun, because she got robbed of a little bit of fun during her childhood, to say the least.
I hope Matthew Weiner comes to his senses soon and gives you the Sally Draper spin-off you deserve.
Thank you, I'm down. [Laughs.] I'm super down.