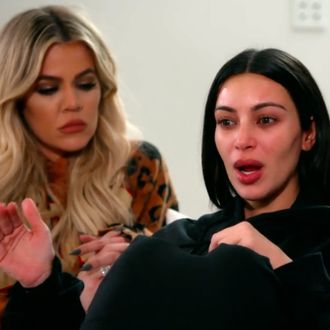 Kim Kardashian West.
Photo: Courtesy of E! Entertainment
After months of silence on the subject, Kim Kardashian West told the harrowing story of surviving an armed robbery on Sunday's Keeping Up With the Kardashians. On October 3, Kardashian West was robbed at gunpoint in her Paris hotel room. Speaking to her sisters Khloé and Kourtney, Kim shared the worst fears she had during the experience, which involved multiple armed men who physically restrained and gagged her.
"Then [one man] duct-tapes my face, my mouth, to get me to not yell or anything and then he grabs my legs and I wasn't — I had no clothes on under [my robe]. And he pulled me toward him at the front of the bed and I thought, Okay, this is the moment. They are going to rape me." Kardashian West said. "And I fully mentally prepped myself. And then he didn't, and he duct-taped my legs together."
In addition to fearing that she would be raped, she was also convinced she would die. "I just prayed that Kourtney's going to have a normal life after she sees my dead body on the bed," Kardashian West said. The last thought she could remember having as one of the robbers pointed his gun at her was: "I have a family. I have my kids, my husband, my mom — I'm not going to make it out of here. I know how these things go."
Kardashian West was instead placed in the bathtub, where she was found later. The robber made off with a reported $10 million in jewelry. Kardashian West, her sister, and her mother left Paris immediately to reunite in New York with her husband, Kanye West, and their children.