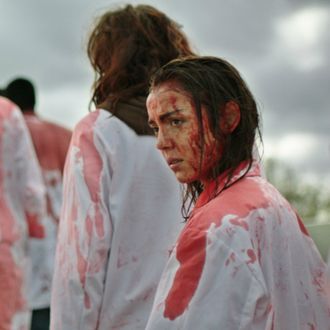 Photo: Focus World/Toronto International Film Festival
Look, you're already going to be barfing in sheer terror. Why not do that terror-barfing … in style? In what is unquestionably the most metal movie-theater amenity available today, Los Angeles' Nuart Theatre is providing "custom-made," handcrafted barf bags to moviegoers attending screenings of French director Julia Ducournau's cannibal horror film Raw.
The bags are a nod to both the fear-induced fainting and vomiting that anecdotally accompanied the movie's festival rounds, as well as horror novelty items of the past. "One of the staff at the Nuart took up the initiative to make the barf bags out of paper lunch bags. What a fun idea!" Mark Valen, a film-buyer for Landmark Theatres who also programs the Nuart, told The Hollywood Reporter. "I remember that used to be done with some horror releases in the 1970s." Audience members are encouraged to eat any and all bagged lunches they've brought with them before the screening starts, in order to avoid any tragic mix-ups and/or tragic-mix-up-related vomiting.