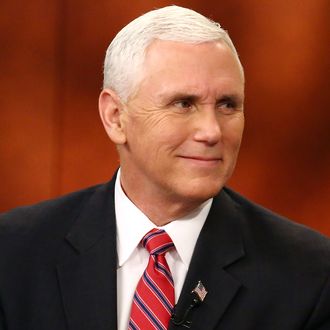 Last Man on Earth's 46th president.
Photo: Astrid Stawiarz/Getty Images
On Sunday night's episode of The Last Man on Earth, the audience learns who was controlling America when the virus broke out. And who after that, and who after that. Warning: Spoilers ahead for the episode and possibly our dystopian future.
In a flashback we see the virus outbreak entirely from the perspective of Kristen Wiig's wealthy character Pamela Brinton. Brinton realizes how serious the epidemic is when a news anchor announces that 46th president of the United States Mike Pence has died. It's already been established that the world's population is mostly wiped out by the disease in 2019, so what happened to the current president who is supposed to serve through at least 2020, President Trump? As The Hollywood Reporter points out, the episode never mentions Trump's fate, so it's up to us to guess what became of him: impeachment, death, early retirement, self-imposed exile to the glorious Russian Federation? After Pence dies, the country is led in quick succession by its 47th, 48th, 49th, and 50th presidents Rex Tillerson, Steve Mnuchin, Jeff Sessions and Betsy DeVos, none of whom survive to see 2020. At least the American government died with a woman finally serving as commander-in-chief, though it's doubtful it was an ending any still-living feminists took solace in.