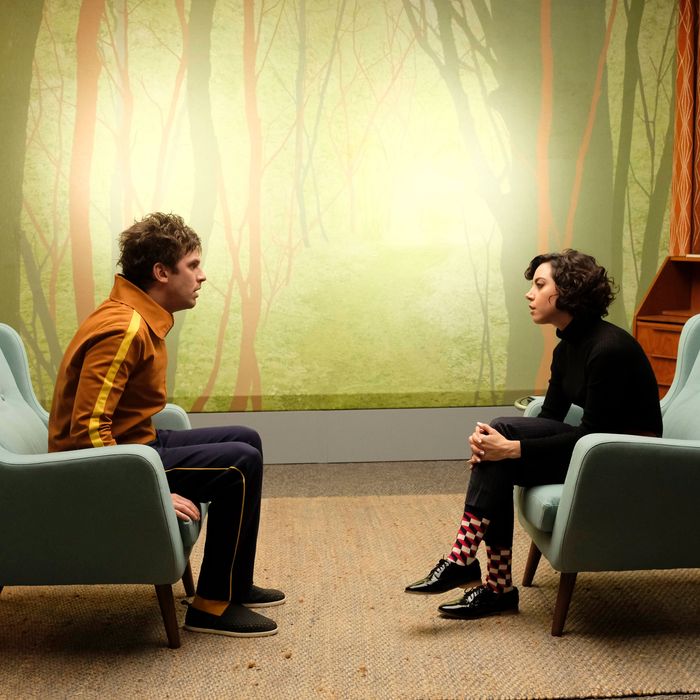 Photo: Michelle Faye/Michelle Faye
By the end of last year, it felt like the superhero factory was running out of flavors. On screens both big and small, the two biggest brands tasked with cranking out spandex-clad adventures had settled into comfortable formulas: Marvel movies and DC TV shows were bright and quippy; DC movies and Marvel's Netflix shows were dark and brooding. The shepherds of each had banked on familiarity and reproducibility. But the third big superhero brand, X-Men stewards Fox … well, they couldn't quite figure out what they were.
There were two movies based on X-Men comics that came out in 2016: Deadpool and X-Men: Apocalypse. They could hardly have been more different. Where the former was giddily sophomoric and self-referential, the latter was grandiose and straightforward. On top of that, those two were also quite different from Fox's previous super-outing, the body-horror-filled Fantastic Four. When it came to tales of derring-do, Fox was the only outlet without a formula at the dawn of 2017.
As it turns out, that erratic jumping from tone to tone isn't a bug — it's a feature. Right now, Fox is the only studio in the superhero game that's willing to hopscotch through genres and universes, eschewing consistency and continuity in favor of experimentation and, on occasion, even auteurism. Sure, they still produce generic flicks like Apocalypse, and yes, Fantastic Four was a disaster, but more often than not, they're swinging for the fences and getting home runs, or at least triples. All of a sudden, Fox has emerged as the superhero house most willing to get risky — and they're being rewarded for it.
Their first live-action X-Men-based TV show, Legion, is an impressionistic and deliberately confusing masterwork from the mind of Noah Hawley, one completely removed from any kind of shared cinematic universe, despite coming from the same comic-book DNA as Fox's other products. It's been a critical smash the likes of which superhero TV has never seen, and it just got picked up for a second season. Fox's latest movie, James Mangold's Logan, is a relentlessly humanist effort at dystopian realism that has little reverence for the existing continuity from previous X-pictures. It's grossed more than $150 million worldwide in less than two weeks. And Deadpool, whatever you think of it, was an entirely new kind of superhero movie, what with its postmodernism and frattiness. It made an astounding $783 million, which was 1,348 percent of what it cost to make.
Yes, this money is small potatoes compared to the Marvel Cinematic Universe, whose cumulative take over the years is larger than the GDP of many small countries, and no X-movie has grossed a billion dollars like two of DC's Batman movies have. They also lack the advantage that Sony, holder of the Spider-Man rights, now has by being annexed into the MCU. Fox remains the bronze medalist of the super-studios — but they're unpredictable and on an upward trajectory.
Of course, past performance is not an indicator of future success, and Fox's momentum could slow in the coming years. Deadpool 2 might be a disappointment after the departure of director Tim Miller. X-Force, The New Mutants, and the as-yet-untitled next X-Men flick could be as dull as Apocalypse. The situation remains fluid on TV, as well — Fox is prepping a mysterious new show helmed by Burn Notice's Matt Nix, who lacks Hawley's pedigree. We may find that the Deadpool–Legion–Logan trifecta was a freak occurrence.
But having spoken to the twin stewards of the X-brand, Lauren Shuler Donner and Simon Kinberg, in the past, I can say that they've both made a very deliberate choice to err on the side of uniqueness. Donner, especially, has a firm belief that the superhero genre has to change or die — she was the producer who made the first X-Men happen when superhero movies were a nonstarter, and she thinks the only way Fox can survive is if it gets back to the risk-taking attitude that launched the franchise in the first place. With any luck, the scrappy third-placers will continue to believe that the best formula is no formula at all.