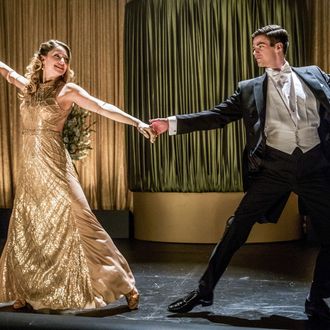 So classy!
Photo: Jack Rowand/The CW
You don't need to know much about the Flash or Supergirl universes to understand what happened in their musical crossover episode "Duet" last night. Here's a primer: The Flash runs fast, Supergirl is invulnerable, they both love ordinary people, and the duo gets stuck in a musical fantasy orchestrated by the Music Meister (Darren Criss). You can watch the episode on the CW's site — you should! It's good! — but in case you'd like a sampling in advance, please enjoy two of the most adorable songs from the very adorable show.
First up: "Runnin' Home to You" which hails from La La Land and Dear Evan Hansen lyricist team Pasek and Paul. It's a soaring, melancholy melody, very much in the vein of the music they wrote for Dear Evan Hansen, which makes you long for a Grant Gustin cover of "You Will Be Found," or maybe a chance to seem him wander through Central City humming "City of Stars."
Then, in case you want something more lighthearted, Crazy Ex-Girlfriend's Rachel Bloom and Robot Chicken's Tom Root wrote a more lighthearted ditty titled "Superfriends." You'll recognize Crazy Ex's brand of self-aware wordplay, here with far fewer sex jokes. The episode also included covers of "Moon River," "Put a Little Love in Your Heart," and "More I Cannot Wish You," which were all very charming, too.