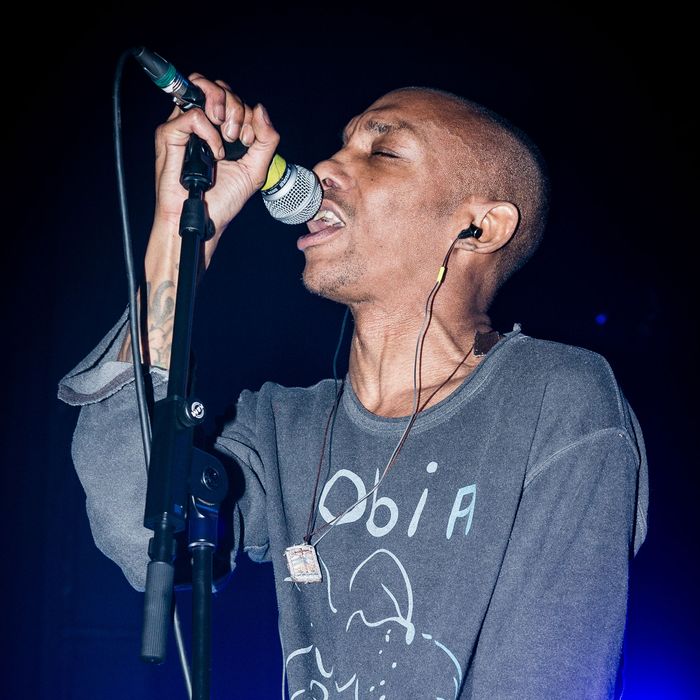 Photo: David Wolff - Patrick/Getty Images
Tricky's been busy, but that's nothing new. Since launching his music career with the super-stressed masterpiece Maxinquaye (1995) the Bristol trip-hop pioneer has released 11 further genre-bending albums testifying, for better and for worse, to the artist's permanent crisis of identity. So Thursday's release of "Escape," his contribution to Music Inspired by the Motion Picture Ghost in the Shell, a forthcoming album of music inspired by the forthcoming (identity-crisis-centered) motion picture Ghost in the Shell, starring Scarlett Johansson, due on March 31, was a fresh drop in the sea of angst.
It doesn't seem like much, but it's definitely not bad. An instrumental track orbiting a low guitar riff, periodically punctuated by digitized depressions and a monosyllabic voice sample set artificially aquiver, topped off by a curt, delicate, pure, high set of plucked notes, "Escape" crawls forward in time, exuding a spirit of unresolved menace. Tricky's clearly content to let the tools do the talking for him: Their agility offsets the torpor that often gets the better of his lyrics and tone. Though his best music elides the distinction, "Escape" is surely a song for hunting and not a song of someone at bay.
It's not the first time a Tricky song has been associated with a film: Though not part of the soundtrack album, "Makes Me Wanna Die," a prime cut off his sophomore album Pre-Millennium Tension (1996), plays during a scene in The Replacement Killers, the 1998 action film co-starring Chow Yun-fat and Mira Sorvino. There's an interesting parallel here. Though its producers had the good grace to import its lead actor from Hong Kong and have John Woo coordinate its fight scenes, The Replacement Killers is nonetheless an American replica of the ultraviolent Hong Kong cop-and-Triad flicks Woo rendered legendary during the '80; likewise, as various commentators have critically noted, Johansson's Ghost in the Shell is an American knockoff of the Japanese manga, film, and television series of the same name.
Box-office and critical failure aside, The Replacement Killers is something of a hidden gem, and no small portion of its quality derives from Sorvino and director Antoine Fuqua's sincere interest in Asian culture. (Sorvino speaks fluent Mandarin and earned her Harvard degree in East Asian Studies; Fuqua, who named his daughter Asia, went on to direct the Kurosawa-knockoff-remake The Magnificent Seven and is slated to direct a film set during the Tang Dynasty.) Will Ghost in the Shell end up sharing the financial or aesthetic outcome of The Replacement Killers? Only time will tell. For now, the question of what they share is difficult, goading, unresolved — in other words, tricky.