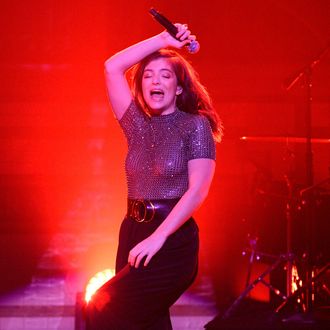 Photo: NBC/NBCU Photo Bank via Getty Images
This past weekend, brooding New Zealand songstress Lorde appeared on Saturday Night Live to perform her two new songs, "Green Light" and "Liability," kicking off the anticipation for her sophomore album, Melodrama. It was a capable and impressive performance by all means — it was also the first time she sang the tunes live — but that didn't prevent "people on social media" from criticizing her usual eccentric dance moves. The outcry was so loud, in fact, that it caused Lorde herself to joke about it on Facebook. "One day I will do a normal dance choreographed by a nice person," she wrote, "and I will look more like your other favourite performers but we have not yet reached that day." Since this has seemingly become such a divisive topic, let's utilize some trusty GIFs for a thorough investigation into what dance moves we're dealing with here.

The Subtle Shimmy Shake

The Auckland Flail

The Voluminous Hair Flip

The Christchurch Wiggle

The Microphone Tête-à-Tête
The Head Banger

The High-Fives All Around

The DGAF

The Microphone-Stand Fracas

Vulture's verdict? People are nuts. This is fantastic.