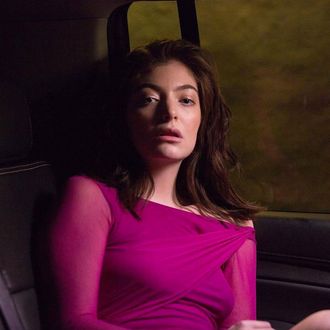 This Thursday (or Friday, if you're a Kiwi), Lorde will make her much-awaited return to pop disruption after a three-plus year break between albums. She's expected to release her sophomore album's first single on March 2 and has been baiting fans, both here in the States and in her home of New Zealand, with small treats in the lead-up to the big day. As the world perfects their possessed looks in anticipation of the former teen queen's arrival, here's what we know so far about her new song.

It's coming March 2 at 2 p.m. ET.
In her continuous quest to stand out in the crowd, Lorde has officially announced that her single will come out on a Thursday afternoon – unlike all the other music dropping at midnight later on – with a music video directed by Grant Singer. She's also written a little description about what to expect.

It's called "Green Light."
We didn't know it at first, but Lorde's new single is called "Green Light." That's the name reportedly floating around at radio stations and it's the one she projected onto the sides of buildings, Kanye-style, in one of the many blink-and-you'll-miss-it teasers she's been rolling out. Her latest was specially made for her fellow Kiwis:

It sounds suspiciously upbeat.
So it's not a John Legend or Beyoncé cover, but Lorde's "Green Light" sure sounds energetic and nothing like her usual moody melodrama. Is that a fast piano-based beat and hand claps we detect? Lorde did say it's "unexpected." Six seconds say so little, and yet so much. Here's what we can make out for now: "I'll come get my things, but I can't let go / I'm waiting for it." There's been little word on collaborators for the album, but her partner on Pure Heroine, Joel Little, says he didn't produce the new album — "Green Light" probably included — and instead did some co-writing. Taylor Swift's friend Jack Antonoff has also been involved.

It's got a real beach and car theme going.
Tuesday night, Lorde tweeted fans in New Zealand three separate locations where they could get a taste of her new song, including Herne Bay Beach in Auckland. There, fans got a glimpse of parked cars filled with hazy green lights and scattered messages scribbled with what might be lyrics. The first: "She thinks you love the beach, you're such a damn liar." The second: "I do my makeup in somebody else's car." The suspense!

It's got commercials.
In a world in which there are teaser trailers for movie trailers, trust that there can be commercials for songs. Adele's done it, and now Lorde's followed her lead. So far, she's released three very brief ads for "Green Light," which are likely clips from the music video. One features her in the backseat of a car snacking (a lyrical reference?) and another has her walking alongside a highway. The latest and last brings back her zany dance moves in a club. She's advised fans to keep close watch on a site called imwaitingforit.com, yet another lyrical reference. Stay tuned!

This post has been updated throughout.