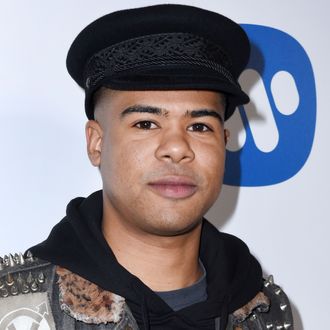 Makonnen.
Photo: Vivien Killilea/Getty Images
Shortly after Makonnen came out as gay on Twitter, his old collaborators and fellow Atlanta brethren Migos reacted to the news in Rolling Stone in a way that was perceived as homophobic. "They supported him [coming out]?" Quavo said. "That's because the world is fucked up," Offset added. "This world is not right," Takeoff piled on. Then back to Quavo: "We ain't saying it's nothing wrong with the gays. [But] he first came out talking about trapping and selling Molly, doing all that. That's wack, bro." Migos later issued an apology of sorts clarifying that they meant "the world is fucked up that people have to hide and we're asked to comment on someone's sexuality." Now, in a deeply candid interview for The Fader about life after coming out, Makonnen has shared his thoughts on Migos' comments and is defending them for what he believes was all a "misunderstanding."
"It don't even matter. Migos say whatever they said. It's a misunderstanding. But there's no war over here," he says. "It can get messy in Atlanta, though, 'cause it's probably more gays than it is goddamn straights! They will rise!" And, to be clear, Makonnen doesn't think Migos are homophobic: "They ain't got no problem with gay people! They fuckin' song is 'Versace'! Like, the fuck! Nigga, [Gianni] Versace is the gayest nigga. They ain't got issues with him, why they got issues with me?" Makonnen was, however, irritated with how Migos handled both the interviewer's question and the fallout from their response.

"I thought he was 'my friend.' But you see how friends do in interviews. So it's like, Oh well. With friends like these, who needs enemies. And now you gotta come back with some sorry ass excuse. Nah. That's only cause you got the #1 record and you didn't wanna fuck it up … Y'all gotta do y'all for face game to save your face. Y'all gots to do y'all. I'm gon' always do me. I got no animosity towards y'all. [Pause] Why is it about me? Why you talkin' about Makonnen? Y'all 'Bad and Boujee' right now. Why we talkin' bout Makonnen? It's whatever. Ain't nobody hit me up personally. Y'all want to reach out to me? I'm not hard to find! I'm not hiding from nobody. Don't talk on me saying I feel like I have to hide, don't mention anything about me."
Makonnen's animosity is instead reserved for Drake or, as he refers to him in the interview, "so-and-so." Speaking on why his relationship with Drake soured after Drake remixed his song "Tuesday" and Makonnen signed to Drake's label OVO, he says he felt used. "They needed a hot song. That's it … He's all in my face telling me, 'You one of the greatest songwriters ever,' da da da. Just blowing me up, bruh," he remembers. "And then when I'm like, 'Can y'all tweet out my mixtape? Can I get a feature? Can I get production?' No, no, no. So I'm just over here in prison?! Am I in prison?!!" Not anymore, it seems.