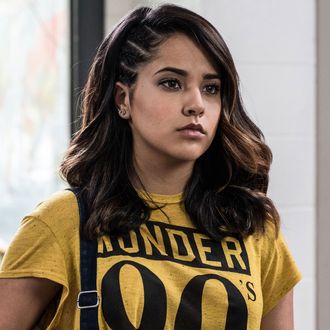 Becky G in Power Rangers.
Photo: Kimberly French/Lionsgate
Days after Disney's Beauty and the Beast went through the ringer with the Malaysian censorship board over its "exclusively gay moment," Lionsgate's Power Rangers, which features a character implied to be questioning her sexuality, has passed the censors. Variety reports that the film will be released in the Muslim-majority country despite containing a scene in which a character asks Trini the Yellow Ranger (Becky G) whether she is having "boyfriend problems," and when she shrugs off his question, then asks about "girlfriend problems." Without answering directly, she discusses how she worries her parents wouldn't approve of her lifestyle. The country's censorship board, the LPF, gave the film a P-13 rating.
Previously, the LPF demanded over four minutes of cuts to Beauty and the Beast to remove the "gay element" from the film, which Disney refused to do. After the studio appealed to the country's Film Appeals Committee, which is separate from the LPF, the uncensored cut of the film was released with a P-13 rating (in the U.S. Beast is rated PG). It's not clear whether the change in the LPF's rulings is due to the outcry over Beauty and the Beast or the fact that the Power Rangers scene was considered relatively less blatant (even if it did make headlines). Point is: Citizens of Malaysia will get to see just as much Becky G onscreen as everyone else.