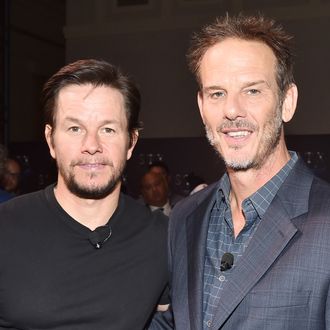 Mark Wahlberg, Peter Berg.
Photo: Alberto E. Rodriguez/Getty Images for CinemaCon
Mark Wahlberg is in a tricky position: He's an A-list movie star without one big franchise to his name. (He shares custody of the city of Boston with Ben Affleck and Matt Damon, but that doesn't really count.) Now it looks like he's getting one. Wahlberg's next collaboration with Peter Berg, Mile 22, will be built into an action trilogy for STX Entertainment, according to Variety. "I still don't feel like I have the movie, the role, that defines me," Wahlberg said. His turn in the not-yet-released movie about a CIA agent in Indonesia tasked with transporting an informant to an airport 22 miles away might give him the defining role he yearns for. The first installment of the Mile 22 trilogy will co-star UFC fighter Ronda Rousey; it will be the fourth Wahlberg-Berg collaboration after Lone Survivor, Deepwater Horizon, and Patriots Day.