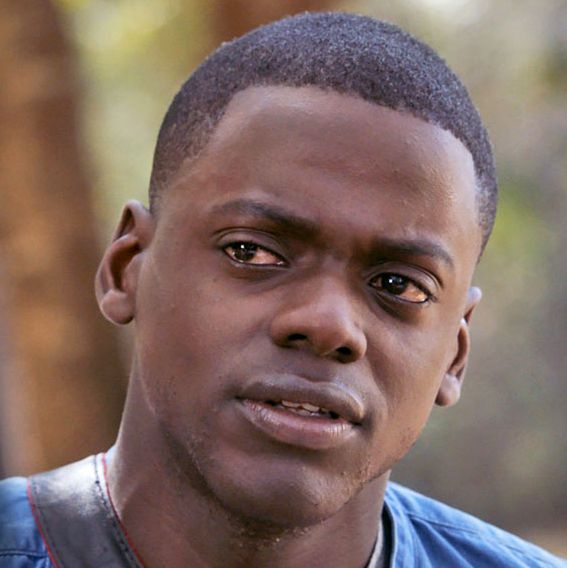 James McAvoy in Split and Daniel Kaluuya in Get Out.
Photo: Universal Studios, Blumhouse Productions
When producer Jason Blum and Universal marketing heads Josh Goldstine and Michael Moses were part of the keynote conversation that closed Variety's entertainment marketing summit, Massive, the appearance doubled as a victory lap. This year alone, two collaborations emerging from the deal between Blum's Blumhouse and Universal, M. Night Shyamalan's Split and Jordan Peele's Get Out, have crossed the $130 million mark domestically, with Split adding another $120 million worldwide and Get Out just beginning to expand overseas. But here's the kicker: To earn nearly $400 million (and counting), it took Blumhouse and Universal a combined budget of just … $13.5 million. To Universal, that's the pennies in your cup holder.
Of course, it isn't quite that simple. When Vulture caught up with Goldstine and Moses before they took the stage, they explained why more studios aren't playing in the seven-figure budget range. "I know why it can be scary, which is because you can make a movie for a small budget, but there's no low-budget version of taking a movie out around the United States and doing a national, wide release," Goldstine said. "When you make a small-budget movie, but you don't have the right ideas, and you don't have a handle on how to market it, you can then think, Oh, we only spent a couple million bucks making it, and then you wake up and go, How is it possible that we lost twenty?"
In their keynote conversation, moderated by Variety co-editor-in-chief Claudia Eller, Blum elaborated on this point, saying that it's completely in Goldstine and Moses's power to decide whether or not they want to put $20–$35 million — usually something like five times the film's budget — into marketing and releasing any given movie. Blum said marketing played about 50 percent of the role in making a movie successful, with the other half, of course, being the movie itself.
It's not a coincidence, then, that both men are involved very early on in the Blumhouse process, often before projects even have scripts. Moses describes it as a relationship based on mutual respect. "When he's conceiving of movies, he brings us in at the earliest stages, because he completely understands that if it's not marketable in this day and age, it's compromised in some way," Moses said. "And then he allows us to actually give suggestions on ways to enhance all those things."
But what working on a micro-budget does allow, in comparison with a film that might cost anywhere from 10 to 50 times as much, is to market as freely and creatively as possible; if the movie doesn't have to make $100 million just to break even, it's free to take bigger risks in terms of making an impact. On stage, Moses credited Blum with the idea of creating trigger moments in each marketing campaign, designed to make the film, at least briefly, a conversation topic in the wider culture.
During the keynote, the three men dove further into how each of their releases broke out. For The Purge: Election Year, the marketing of which Moses and Goldstine's team got to tailor to the increasingly deranged presidential horse race going on around its release, that was airing the movie's inaugural TV spot during the first Republican debate — half a year ahead of its release. "Generally, horror movies don't advertise six months before they open, but the director and I were so excited, and it was totally their thing," Blum said.
For Split, it was convincing M. Night Shyamalan to screen his film at Fantastic Fest, a prospect he was very, very nervous about. "I root for Night, I just do," Moses said. "I think it's exciting when you see a filmmaker who had great success and then went and maybe got seduced by Hollywood or the industry and started to make things that weren't as expressive of who he is and then returns to it — that doesn't often happen."
The type of folks who fill Fantastic Fest — the cool kids, as Moses called them — haven't treated Shyamalan "especially kindly" over the last several years; he had to "show his movie in front of the people he's most scared of." Universal and Blumhouse took the step because they were confident in the film, and realized that a positive reception from such a crowd would do wonders to boost its visibility. The gamble paid off.
As for Get Out, the most critically and commercially outstanding release of the year so far, it was a question of, from the beginning, highlighting Peele's remarkable idea and demonstrating that it played on two levels: both as a rewarding genre film and as an incisive social commentary.
"You very rarely get to work on a movie where Jordan is on the cover of the New York Times, doing hip-hop stations, is on NPR, and everywhere in between," Moses said. "It just showed the expanse of who this movie could be for."
The first step to capitalizing on that potential was the trailer. Goldstine, Moses, and Blum worked with their teams to craft a trailer that would convey an honest sense of the tone and themes without giving too much away. But they ran into an interesting situation: All three men agreed that a certain detail from the movie should be added to the trailer, and Peele did not.
"I've made a lot of movies and I've never seen this happen," Blum said. "The producer wanted it, and the heads of marketing wanted it, and the first-time director — which is very relevant to the story, because if this was James Cameron, it's a different situation — the first-time director did not want it. And finally, all three of us let Jordan do what he wanted to do, and I'm glad that we did. It's a remarkable thing to be that collaborative."
When the trailer rapidly accumulated 60 million views, everyone had a sense of how big the movie could be, and they doubled down by bringing it to Sundance as an unannounced midnight film. They credited that screening, at which it received a rapturous reception, as the point at which Get Out began to take off.
If any rival studio executives were in the audience hoping to take away some strategies, the first would be the value of these events in springboarding a film into the public conversation, often forcefully. The second would have to do with release date, which Blum credited as the "the one decision that makes more of a difference than any other decision you make." Split and Get Out came in January and February, months that were previously thought to be dumping grounds for projects that either didn't work or lacked an audience. Moses called that idea nonsense, saying both Split and Get Out managed to find weekends where they could stand out from their competition and sustain a long life. It also didn't hurt that, when the trailer for Get Out hit the internet, "the two movies that were dated against us moved."
And the third lesson — one that might prove considerably harder to replicate — would be the symbiotic relationship of marketing to filmmaking, a feature that requires absolute trust to work; otherwise, directors and talent might feel like they're making an ad campaign rather than a movie, an accusation that couldn't be farther from reality when considering as original and expressive a piece of art as Get Out.
How deep does this bond go? Moses recently suggested that Blum produce a film called Truth or Dare. He didn't have a plot, didn't have a director or star, just that title in mind. Truth or Dare has since been greenlit by Blumhouse.