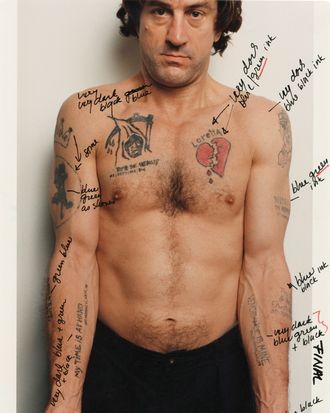 From "Martin Scorsese" at the Museum of Moving Image.
Photo: Courtesy of Harry Ransom Center, University of Texas at Austin/Robert De Niro Collection
It's no surprise that Robert De Niro plays a prominent role in the exhibit "Martin Scorsese" — the duo are contemporary cinema's most famous, and arguably most fruitful, director-actor combination. They've made eight feature films together, with a ninth, The Irishman, set to begin filming this year. The exhibit spans Scorsese's unparalleled filmology, from a storyboard he drew at age 11 for an unproduced sword-and-sandals epic titled The Eternal City through Mean Streets, Taxi Driver, Raging Bull, and more. But perhaps no image on display is more striking than this simple continuity photo, taken during the production of Scorsese's 1991 remake of Cape Fear, in which De Niro plays the psychopath Max Cady. The purpose of the photo is to document the design and placement of his elaborate tattoos. The effect, however, is to remind the viewer, viscerally, of the intensity of this performance, and of the iconic collaboration that produced it.
Martin Scorsese is on display at the Museum of the Moving Image.
*This article appears in the March 6, 2017, issue of New York Magazine.