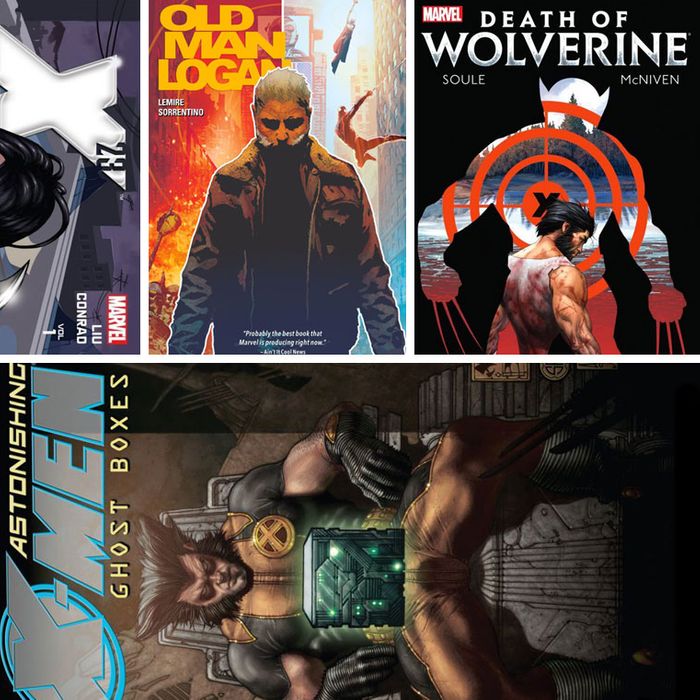 Some Logan-adjacent books.
Logan is unlike any X-Men movie ever made, but that doesn't mean it came out of nowhere. The new Fox tentpole picture features an aging version of the titular protagonist — more often known as Wolverine — as he links up with a lethal young female companion with powers eerily similar to his. The story has an array of forebears in the world of Marvel Comics, as well as stories that may not have inspired the movie, but share a lot of its thematic DNA. If you want to prepare for Logan or get a post-Logan fix of stories that feel like it, here are five books to choose from.
"Old Man Logan" in Wolverine by Mark Millar, Steve McNiven, Dexter Vines, and Morry Hollowell
This is where it all started. At the end of the aughts, Scottish enfant terrible Mark Millar launched a story line in the ongoing Wolverine solo series that sold like gangbusters and changed the character forever. Entitled "Old Man Logan," it envisioned Logan as, well, an old man. We find him living on the West Coast after an apocalyptic battle with a team of bad guys, retired from evil-fighting and attempting to live a quiet family life. Of course, everything goes wrong, and he and an aging Hawkeye have to go on a road trip that itself goes wrong. It's a thrilling and inventive tale built on a passionate love of the Marvel universe, and the final battle — illustrated with verve by Steve McNiven, Dexter Vines, and Morry Hollowell — is something to behold.
Old Man Logan, Vol. 1 by Jeff Lemire, Andrea Sorrentino, and Marcelo Maiolo
No one ever accused superhero comics of making things simple, and confusingly enough, there have been three different series entitled "Old Man Logan." The first is the Millar and McNiven original, the second is a mini-series released as part of a publisher-wide crossover, and the third is a fantastic new ongoing series helmed by writer Jeff Lemire and artists Andrea Sorrentino and Marcelo Maiolo. It follows the Logan of the original story, who has been shunted back in time to the present day and has to navigate a world he thought was lost to him. In this first volume of the current series, we see him debating the ethics of killing off those who would theoretically later participate in the destruction of the world, and though the writing is great, the real show here is Sorrentino's artwork, which is better than just about everything on stands today.
Death of Wolverine by Charles Soule, Steve McNiven, Jay Leisten, and Justin Ponsor
As the Brits say, this one does what it says on the tin. McNiven returned to the character alongside superstar writer Charles Soule for a story in which the non-old version of Logan faces his own mortality after losing his healing factor and being thrust into an adventure that causes him to cross paths with both friends and foes as he seeks an impossible goal. It's not a spoiler to say Wolvie dies, but the way he goes out is both unexpected and quite beautiful, as one would expect from McNiven.
X-23, Vol. 1 by Marjorie Liu, Will Conrad, and John Rauch
Laura, the wee-girl killing machine who accompanies Logan on his road trip in Logan, has an interesting history, having been introduced in a cartoon and then ported onto the page, where she's thrived ever since. It's not surprising that she should have such a lasting impact: The idea of a young, female clone of Wolverine who has to figure out life outside a lab is one that's ripe for solid storytelling. In Laura's first solo series, X-23 (she was the 23rd attempt at cloning Wolvie), writer Marjorie Liu and artists Will Conrad and John Rauch gave us a tale that was both classically Wolverine-ish and distinctly new. Our hero finds herself plagued by her past as a living weapon and embarks on a journey alongside the Ragin' Cajun himself, Gambit. The results are funny, brutal, and often quite tender.
Astonishing X-Men: Ghost Boxes No. 2 by Warren Ellis, Clayton Crain, and Kaare Andrews
This is a deep, deep cut, but I couldn't stop thinking about it while watching Logan. Warren Ellis is one of the greatest living comics writers, and during a brief mid-aughts run with the X-Men, he crafted two utterly haunting short stories whose unrelentingly sad tone matches that of Logan in a way that few in the X-corpus ever have. Here, we see two visions of possible futures after the X-Men are defeated for the final time and the world is turned into a barren cinder. They're terrifying vignettes, the first depicting Cyclops as he attempts to commit suicide by eye-blast, which is harder than it looks; the second showing Wolverine, Beast, and Armor on a The Road–esque journey through a bleak wasteland. Schedule some ice cream and cartoons to watch after reading these beautiful downers.