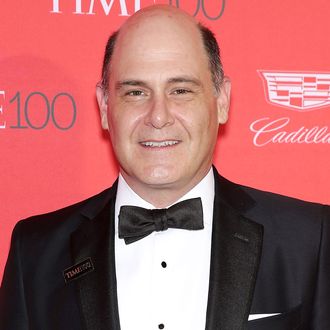 Photo: Neilson Barnard/Getty Images
Matthew Weiner has been mum on his Mad Men follow-up, a $50 million anthology drama for Amazon, until now. He's started work on the series, and with the writers room up and running, he gave The Hollywood Reporter more details about the show. It'll be a true anthology, he said, with a new cast and story line in each episode. All the stories will be linked by one obsession: people who are convinced they're descendants of Russia's last imperial dynasty. "[It's] contemporary but every single episode — and there will be eight — has a different cast, a different story and a different location. The thing that holds them together is that all of the stories involve people who believe themselves to be descendants of the Romanovs," Weiner explained. At least four of the eight episodes will be filmed in the United States, with the rest to be filmed abroad, and Weiner said it's likely that they'll all be in English. With trendy genetic testing like 23andMe, the Mad Men creator said it's prime time to explore one of the world's great unsolved mysteries:
And the reason that I picked the Romanovs is that in an era where we have social media and so much theoretical connection to each other it really seems like we're further apart than ever. And I love this idea that these characters believe themselves to be, whether they are or not, descendants of this last autocratic family who are part of one of the great true crime stories of all time. I also love that it's the chance to talk about nature v nurture, what they have in common and what is left of a grand heritage.
As for casting Mad Men alums, Weiner said he'd love to work with his old show's stars (he's working with many members of his Mad Men team behind the scenes). An episodic anthology makes it easier to hire in-demand talent, but he said it's too early to predict who can make an appearance since the scripts aren't finished. Speaking of Weiner's old AMC show, he's not afraid of the inevitable comparisons: "Many people have said, 'Be prepared to be measured against [Mad Men] for the rest of your life.' But I don't know, I don't think that's that bad."