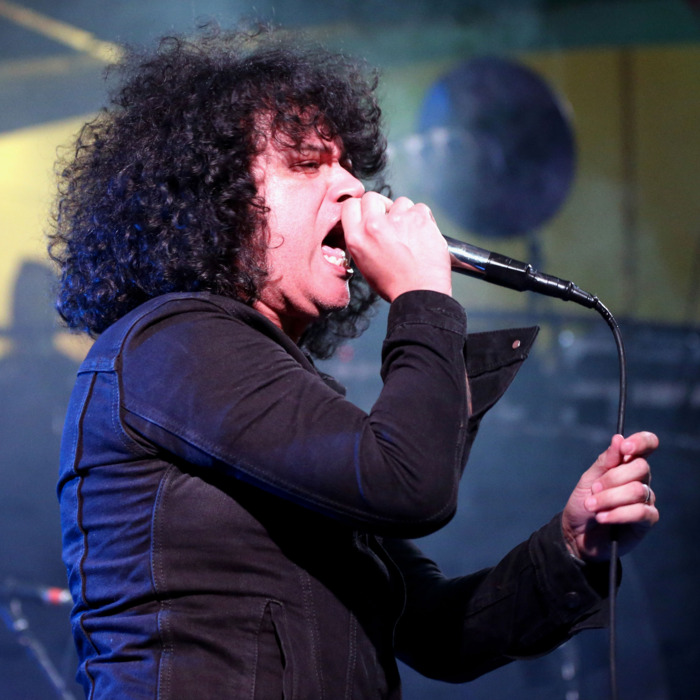 The first live concert I ever saw was Rage Against the Machine, on the tour supporting their 1999 Battle of Los Angeles album. The opening act was the El Paso, Texas, post-hard-core outfit At the Drive-In, months ahead of the release of its 2000 punk-metal masterpiece Relationship of Command. The gig is notable because area law enforcement showed up to protest Rage's support of Mumia Abu-Jamal, who famously swears he never committed the 1981 murder of a cop he was convicted for. The protest would lead to tense moments outside the Massachusetts venue. Inside, Rage brought the expected rap-metal bombast, and At the Drive-In delivered a spastic punk spectacle we neither appreciated nor deserved, twirling, dancing, and screaming to the audience's wall of boos and relative indifference. The tour is notable because by all outward appearances, it broke both bands. Rage dissolved weeks after a final North American leg, and At the Drive-In split in two in early 2001, with singer Cedric Bixler-Zavala and guitarist Omar Rodriguez-López forming the Latin prog-fusion act the Mars Volta, and the rest of the band filtering into the alt-rock-leaning Sparta.
For years, At the Drive-In existed as a perfect case study in the pitfalls of rock-industry hype. They never quite found the audience they ought to have, even with support from successful friends like Rage. By the time Relationship's "One Armed Scissor" and "Invalid Litter Dept." found legs on radio and MTV, vices and divergent tastes were already driving a wedge down the middle of the band. People ultimately didn't know what to make of Rodriguez's math-conscious riffs or Bixler's inscrutable poetry. Omar plays guitar like a glassworker would craft a mosaic, teasing cracked beauty out of shattered shards of sound. Bixler's lyrics do the same to words; his lines sometimes seem more enamored of the way words sound and feel than the meanings they're meant to convey. He sings like an extraterrestrial learning English exclusively from science-fiction novels and medical texts. It was too weird to last.
Last night my long-standing reservations about the sustainability of At the Drive-In were gleefully dashed at a sold-out Terminal 5 show packed with fans across every demographic, including many who didn't look to be much older than the songs they'd come to hear. Bixler reveled excitedly in his newly reconstituted band's growth in absentia, recalling empty '90s gigs at the shuttered East Village dive Continental and thanking fans for turning each other on to the music during a long hiatus. The purpose of the evening was twofold: It was a celebration of the lasting impact of Relationship of Command, whose track list accounted for eight of the night's 13 songs, and a reminder that the band is actively writing again. The new album in•ter a•li•a is out in May and tasked with the unenviable job of holding its own against a predecessor the audience has loved for nearly 20 years. To their credit, the new songs "Incurably Innocent" and "Governed by Contagions" pack a punch, but played right alongside fan favorites "Invalid" and "Scissor," as each was last night, they felt a little light in the britches — ATDI in sound but not necessarily fury.
The songs from the early records have lost no luster across two decades, and if anything, Bixler and Rodriguez's tenure in the Mars Volta has gotten this band to loosen up. Everything ran a little longer and jammier than on record, but the band's peculiar chemistry kept each song on track. Rodriguez's solos bordered devilishly on pure noise (to the visible chagrin of venue staff standing between the stage and the crowd), but the rhythm section provided an unshakable foundation. Bassist Paul Hinojos's smooth lines were the peaceful center of the maelstrom. Drummer Tony Hajjar's work struck a careful balance between confident flash and hits so heavy he smashed a stick inside the first five minutes. Second guitarist Keeley Davis danced around Rodriguez on guitar and backup vocals, an intriguing personnel addition since his old Sparta bandleader Jim Ward was At the Drive-In's fifth man the first time around.
The band was airtight and the songs have aged well, since they were always ahead of their time, but really, to see At the Drive-In is to watch Bixler hold court. The singer traversed his space with the exploratory excitement of a child in a park. The guitar stacks were arranged so he could climb on top of them, and he spent a good amount of time perched on one or the other, waiting to jump off during a dramatic band hit or else puckishly gesturing as though he would knock one over. Hajjar's kick drum and the microphone were other favored props. When Bixler wasn't executing high-flying kicks off his bandmates' stage equipment, he was pulling kitschy yo-yo tricks with his microphone and playing catch with the mic stand. Finesse is the mark of a true showman, and Bixler's moves always landed in spite of looking for all the world like they might not. It's a good metaphor for his band, which has spent almost 20 years waiting to stick a proper landing on a successful album and tour. If in•ter a•li•a is received even marginally well, it'll be a happy afterlife for a band that once had to split before it could catch a break.