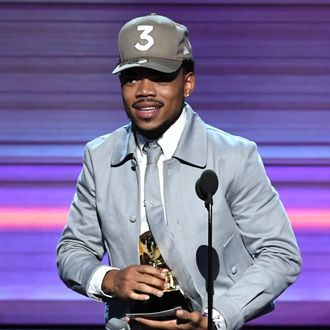 Chance the Rapper.
Photo: Kevin Winter/Getty Images
Chance the Rapper may have donated $1 million to Chicago's public schools out of the goodness of his big, caring heart, but surely gaining a flattering shout-out from former FLOTUS Michelle Obama was an added perk to that good deed. After Chance announced his personal attempt to help the city's schools during a press conference on Monday, Obama — also a Chicago native — tweeted her appreciation for the rapper's initiative. "Thanks @chancetherapper for giving back to the Chicago community, which gave us so much," Obama wrote. "You are an example of the power of arts education."
During the week prior to today's announcement, Chance had a disappointing meeting with Illinois governor Bruce Rauner regarding state funding for the city's schools.