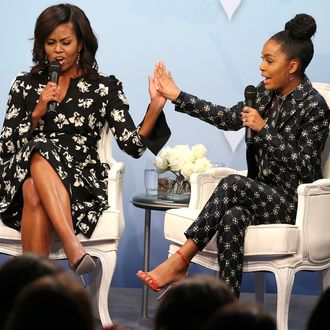 Michelle Obama and Yara Shahidi.
Photo: Paul Morigi/Getty Images for Glamour
College-application season is just about done much to the imminent relief of a specific breed of teens with well-plotted career goals, joiner mentalities, and a hearty stomach for creative exaggeration. And, as any properly panicked applicant knows, students today need unique interests to separate them from a pack of similarly high-achieving data-entry experts. Yara Shahidi clearly read the relevant message boards, because the Black-ish actress has Michelle Obama in her back pocket. Shahidi revealed to W Magazine that Michelle Obama wrote her a letter of recommendation for college. And the mentorship is real, because the former FLOTUS went far beyond your average overworked high-school guidance counselor, also giving Shahidi a "go get 'em, tiger" back-rub as encouragement for Shahidi's AP exams. Shahidi previously shared plans to apply to Harvard and other top schools, so with Obama's endorsement, who's to say? She might just have a shot.