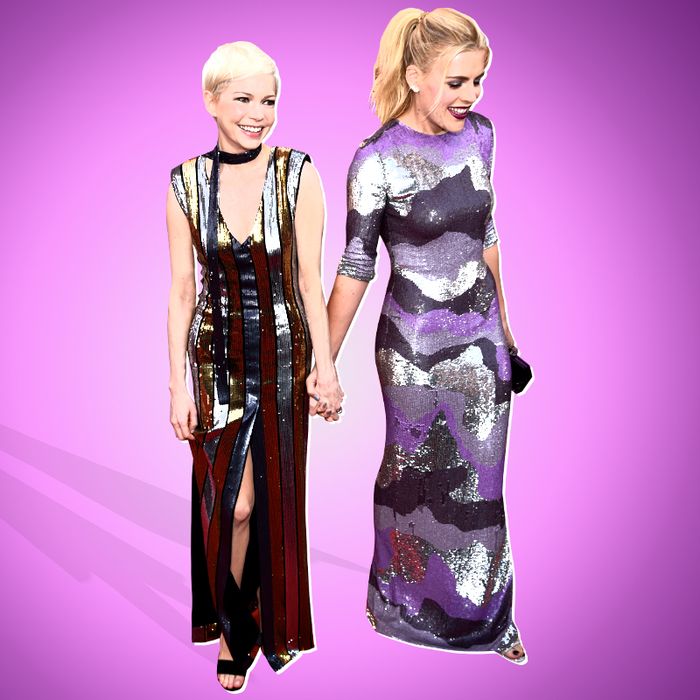 Photo-Illustration: Vulture
Campy teen dramas have given us so much. It's been nearly two decades since two up-and-coming teen stars met on Dawson's Creek, and Michelle Williams and Busy Philipps have become one of Hollywood's closest friendships ever since. When Philipps was added as a series regular and met Williams, the two became inseparable. Through hard times (Heath Ledger's death), good times (post–Golden Globes pasta!) and every red carpet imaginable, Williams and Philipps can often be found side by side. "I'm so in love with her," Williams told People in December. "She's proof that the love of your life does not have to be a man! That's the love of my life right there." So now, a history of one of Hollywood's best friend couples:
1998: Michelle Williams stars as Jen Lindley on Dawson's Creek, the WB's teen drama that will go on for six seasons.
2001: Fresh from a main role on Freaks and Geeks, Busy Philipps joins Dawson's as recurring character Audrey Liddell during the show's fifth season. Here they are on a totally normal night out in 2001, in outfits Busy later (aptly) described as garish:
October 2005: Michelle gives birth to Matilda Ledger, her child with Heath Ledger. Busy and the couple's Brokeback Mountain co-star Jake Gyllenhaal are named godparents.
January 2006: Michelle and Busy attend their first awards show together at the year's Screen Actors Guild awards. Williams was nominated for Outstanding Performance by an Actress in a Supporting Role for Brokeback Mountain, which had two other nominations.
March 2006: Michelle (nominated for Best Supporting Actress for Brokeback) went to the Oscars with two dates: Heath Ledger and Philipps.
January 23, 2008: The day after Heath Ledger was found dead in his Soho apartment, Busy made her way to Michelle's Brooklyn apartment.
Busy stayed at Michelle's Brooklyn apartment with Williams's mother, Carla Ingrid Williams.
A Daily News report said that Busy was the only friend staying with Michelle and her family in the wake of Ledger's death.

Williams' mom and best friend, actress Busy Philipps, were waiting for them last night in Boerum Hill, where Felicity star Keri Russell stopped by with a condolence card. Friends said Williams was bereft and concerned for a child too young to grasp the tragedy.
April 2008: In an interview with the Daily News about her role in the rom-com Made of Honor, Busy declines to go into detail about Ledger's death or the family's grieving.
"Other than actress, writer, wife and mother-to-be, Philipps is close friends with her "Dawson's Creek" co-star Michelle Williams and godmother to Williams' daughter, Matilda, with the late actor Heath Ledger. Philipps declined to discuss the "personal" and "tough situation" for this story."
April 2008: In an Elle interview, Michelle remembers when Busy told her that their old Dawson's Creek co-star Katie Holmes was dating Tom Cruise in 2005.
"I was shocked. [My actress pal Busy Philipps] called and said, "You're never going to believe who Katie's with now." And I'm like, "Who?" And she said, "Who's the biggest movie star you can think of?" I said — this is embarrassing — 'Tom Selleck?!'"
December 2010: Busy accompanies Michelle to a screening of Blue Valentine. Also that month — another L.A. playdate.
February 2011: The pair attend a party for The King's Speech. Later that month, when she's nominated for Best Actress for Blue Valentine, Michelle brings Busy to the Oscars.
October 2011: The pair attend the 15th annual Hollywood Film Awards Gala, where Michelle is honored with the Hollywood Actress Award for her work in My Week With Marilyn. That same month, Philipps praised her pal's performance to the Los Angeles Times (and says she's keeping her fingers crossed for Michelle to score an Oscar nom).
"What if I'm the hex?" Philipps wondered aloud. "I guess we'll know if I get to go again." Maybe the third time is the charm? "I was privileged enough to see an early cut of the film. I can't speak to the final product, but her performance is amazing," she said of Williams' work. "It's really crafted, you know? It's not like some caricature."
January 2012: The duo was together on the Critics Choice Awards red carpet. At a Cougar Town event, Busy also says that she's keeping her fingers crossed for a Williams win:
January 2012: After winning Best Actress in a Comedy or Musical for her work in My Week With Marilyn, Michelle thanks her daughter, everyone who worked on the film, and her BFF/Golden Globes date Busy.
And then, that same month, Busy was Michelle's date to the 18th Screen Actors Guild Awards.
February 2012: The women are together on the Indie Spirit Red Carpet, where Williams wins for My Week With Marilyn.
That same month they go to the Oscars together.
January 2013: The best friends are back onscreen together. Michelle Williams guest stars on Busy Philipps's show Cougar Town, as Busy's character's foster sister:
Michelle's boyfriend at the time, Jason Segal, third wheels the pair's vacation. Busy also told The Advocate's Brandon Voss that she and Michelle are closer than anyone, but they're just friends:
Michelle Williams, your BFF, took you as her date to big events during last year's awards season. How did you react when you heard the lesbian rumor?
Honestly, this is the first I'm hearing it! I get why people would say that about us, though. It does seem plausible. It's like Oprah and Gayle or Dolly Parton and her best friend. I believe sexuality is fluid, and women can have a deep love and affection for other women. My friendship with Michelle has stood the test of time, and we've been together through many different versions of our lives. I love her as deeply as I love almost anyone. But we don't do it. The gay rumors for me actually started in high school with my best friend Kate. For our senior yearbook page we submitted a cute picture of us being silly, almost kissing, with a caption that read, "The rumors are true." Unfortunately, the yearbook staff deemed it inappropriate.
May 2014: Busy on Broadway (supporting Michelle in Cabaret).
December 2014: NYE in the Maldives.
2015: They're Jeopardy! official.
October 2015: Busy tells Elle she counts Michelle as style inspo.
In terms of friends' style, if you had to choose one of your celebrity friends who had fall style that you would love to steal, who would it be?
Oh. Funny. I suppose Michelle [Williams] for all the Louis Vuitton, right?Ha! Yes. Great answer. I've always loved Michelle's style.
I have to say my friendship with her was, in terms of fashion, incredibly illuminating. We became friends when I was 21, and she'd just turned 21 and had been working for a long time and was sort of into fashion and knew cool brands. Brands, whatever? Designers.
June 2016: Michelle and Busy, together at the Tonys. Williams was nominated for Best Leading Actress in a Play for Blackbird.
December 2016: While on Manchester by the Sea's press tour, Michelle gushed to People about how great Busy is:
"I'm here with my best friend," Williams, 36, says as she sips a glass of champagne at a screening of her film, sponsored by Louis Vuitton, and held at the Crosby Street Hotel in New York and on Sunday. "I'm so in love with her," she says, "She's proof that the love of your life does not have to be a man! That's the love of my life right there."
November 2016: At a Manchester screening:
December 2016: …And in what is ostensibly a port-a-potty, post-Critics Choice Awards:
Later that night, Michelle had to re-pierce Busy's ear:
January 2017: Together at the SAG Awards, where Manchester and Williams are nominated.
Busy snapped a stealth pic of Michelle before they headed to the Golden Globes together. Later that night they appropriately ate pasta, because awards shows are long and boring, especially when Michelle doesn't win.
February 2017: Busy shares a watercolor rendering of this very beautiful and important friendship.
And then they held hands on their flights out of LAX!
February 2017: Together again at another Oscars (Williams nominated for Best Supporting Actress for Manchester by the Sea). What's a night out without a mirror selfie?
The ultimate sign of best friendship: They've stayed close through the best and worst of times, and Busy can get a pic that features both of their best angles:
Additional reporting by Jake Nevins and Britina Cheng.