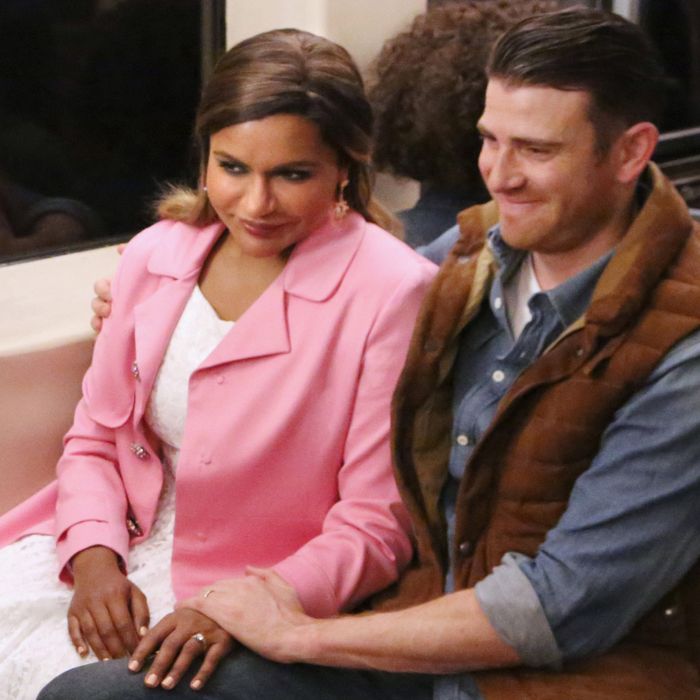 Mindy and family.
Photo: Evans Vestal Ward/Hulu
After three years on Fox and two more on Hulu, Mindy Kaling has confirmed what probably shouldn't come as too much of a surprise to her devoted fan base — The Mindy Project's upcoming sixth season, set to begin airing in September, will be its last. Kaling has been a pretty busy lady as of late, after all. "We're really excited about this last season. I think the timing is exactly right. What's weird is, Mindy is married at the end of the season five finale, but she has never been married in the series, so that's incredibly fun for a character who's been obsessed with [marriage] and has come close many times," Kaling explained in a new interview with Entertainment Weekly. "The final season is the final time — it's the best time — to confront what that reality is for her." So as we contemplate the last time we'll see Morgan's "No More Stealing Cars" tattoo and Beverley's bountiful knife collection, we at Vulture decided to do some reflecting and outline what we'd like to see come September.

A real, proper "good-bye" between Mindy and Danny.
If Mindy's going to stay married to Ben (who, c'mon, seems like a really great guy and has an awesome daughter), we deserve some appropriate closure between Mindy and Danny. What this doesn't mean: flirting, amorous glances, cheating, or discussing the potential of a relationship again, which has, frankly, been beaten to the ground at this point. What this does mean: realizing they've grown apart romantically, but remaining cooperative friends for the sake of their son. Plus, that means we'd probably get to see Annette and Dot in action again. Staten Island, baby!

See Mindy and Ben's extended families interact.
As a new family — we still don't even know Ben's last name! — it would be great to see the Lahiri clan mingling with Ben's fam to get better acquainted and also witness the inevitable tension that will ensue. (She didn't tell her parents she was getting married. Ruh-roh.) We have a feeling Rishi and Lindsay will hit it off immediately.

Give Jeremy some happiness.
It's weird to think back to The Mindy Project's premiere, when Jeremy was a major ladies' man — the epitome of an Oxbridge charmer, really — who was frequently hooking up with Mindy. But as each season progressed, his luck has regressed, and by the time season five arrived, he'd turned into a bit of a hapless sap with a penchant for Miss Marple book clubs and Museum of Geometry exhibits. Perhaps most noticeably, he's been frequently unlucky in love, and it would be nice to see him close out the series with a woman who reciprocates his affections. Maybe it's Anna!

Spend more time focusing on Mindy's fertility practice.
As witnessed in the recent near-perfect "Mindy Lahiri Is a White Man" episode, Mindy doesn't get as much respect at Shulman & Associates as she often deserves. (Sure, she frequently has her silly moments, but people tend to forget how damn good at her job she is as a result of them.) In the few scenes this season that specifically focused on her thriving fertility practice — Later, Baby — we see a respected and hard-working ob-gyn at the top of her game. More of this, please.

Keep unnecessary new guest stars at bay …
Kaling has already excitedly discussed her plans for "amazing" guest stars for the final season ("It's going to be very exciting to pull some of these movie people I've been working with and have them come be in the show," she told EW) to which we say: Yay! Kaling has a lot of contacts in her Roledex! But if the final season is just as short as the fifth, we hope the abundance of stars doesn't detract from the character arcs of the current leads and supporting players — the series hasn't done anything super fun with Beverley and Tamra in a while, for example — for the sake of getting some A-list faces on the screen.

… but do bring back some old favorites for a final hoorah.
One of the best friendships on the series has been the one shared between Mindy and Peter. (Don't tell Morgan.) But despite Adam Pally leaving the series after season three, he's shown up a number of times to delightfully wreak havoc once again at Shulman & Associates. We're always down for some more bro-time between those two. Other people we'd love to see, if only for a moment? Anders Holm's Casey, Mark Duplass's Brendan, Laura Dern's Dr. Ludmilla, and Eliza Coupe's Chelsea.