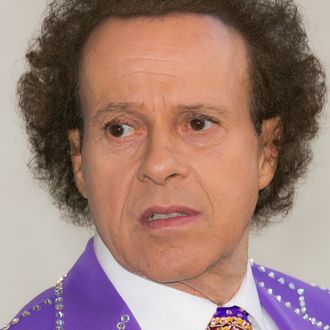 Richard Simmons.
Photo: Rodrigo Vaz/FilmMagic
If there's one takeaway from the recent renewed public interest in Richard Simmons, it's that, for whatever reason, the interest is not reciprocal. Dan Taberski spent six episodes of his morally suspect podcast Missing Richard Simmons slowly coming to terms with that conclusion, and even then, Taberski took one last shot on a grand gesture to the man he calls a friend. As Taberski shared on Katie Couric's podcast, "I wanted to make sure that Richard was hearing the podcast, because that was a big part of this." To buoy the possibility, Taberski decided to make Missing Richard Simmons readily available to the potential Luddite with an instance of door-to-door delivery. "Sometimes I think of Richard Simmons like my grandmother, like I'm not quite sure if he knows how the internet works … So it was literally just putting what we had done into a boom box and putting it on his stoop, and to get his reaction so that we would know that he had heard it," he explained.
Unsurprisingly, given Simmons's heretofore lack of demonstrable interest in the podcast, Taberski's bid didn't definitively accomplish much of anything. Taberski says he saw Simmons's housekeeper pick up the boom box, but nothing more. A note that Taberski left with the boom box, in which he once more invited Simmons to talk to him, also got no response. The boom box: ineffective as a persuasive device since 1989.