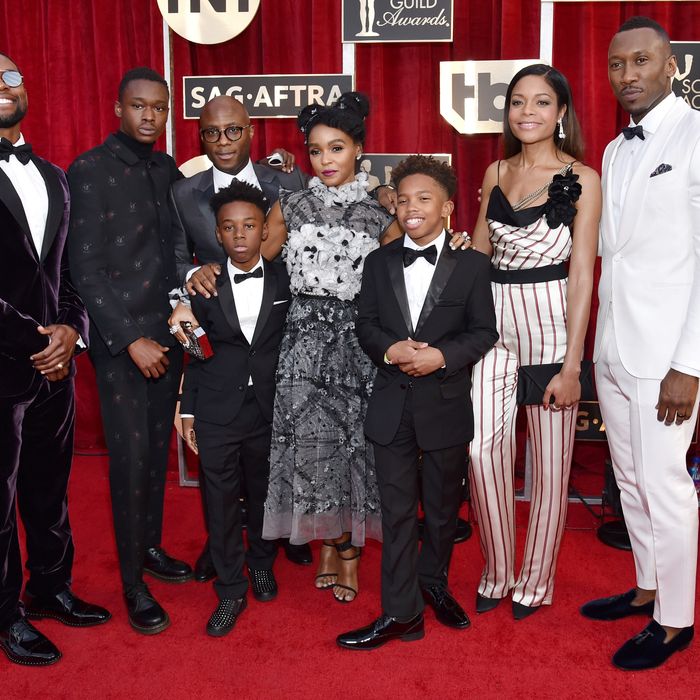 Photo: John Shearer/Getty Images for People Magazine
Now that the Oscars are over and awards season is winding down, we need to reckon with a fresh absence in our daily lives: No more red carpets means far less regular engagements with Moonlight's cast. And we're really going to miss them! Sure, we have those glorious Calvin Klein stripped-down shots of Trevante Rhodes, but when will he get to wear a velvet tuxedo again? And what about director Barry Jenkins — after winning two Oscars, what projects does he have coming down the pipeline? Now that Moonlight has a coveted Best Picture Oscar (not to mention a Best Supporting Actor statue for Mahershala Ali and a Best Original Screenplay award for Barry Jenkins), here's what the future looks like for the key players in Moonlight.
Barry Jenkins (Director)
After the Oscars, Barry Jenkins declined to tell Vanity Fair whether his next project will be another A24 production. Before Moonlight's big wins, Jenkins was in talks to adapt Colson Whitehead's acclaimed novel The Underground Railroad into a limited series with his Moonlight producers Plan B and Adele Romanski. He also directed an episode of Netflix's upcoming Dear White People. For the record, though, pre-Moonlight Jenkins had started working on a feature that involved Stevie Wonder and time travel. "Terence [Nance] was going to play a character loosely based on Madlib, and Solange played this free-thinking performance artist, and they both time-traveled back to 1972," Jenkins told IndieWire in October.
Mahershala Ali (Juan)
A year-round awards season wouldn't be the worst thing in the world, especially if it involved Mahershala Ali serving a new lewk. Next, the new dad can be seen in the recent Sundance movie Roxanne Roxanne. He's also in talks to join Tom Hardy and Channing Tatum in the South American crime thriller Triple Frontier (will this be the most attractive trio ever?), and will soon be in production on Alita: Battle Angel, an adaptation of a popular manga series.
Naomie Harris (Paula)
Next up for Naomie Harris: Rampage, a monster action movie based on a video game. She's also at work on the next Jungle Book movie.
Trevante Rhodes (Black)
While in college, Trevante Rhodes shot a few scenes in Terrence Malick's Austin-set music drama Song to Song (the movie, which will be released March 17, was formerly known as Weightless). As is the case with Malick's final cuts, even the most A-list actors might be left out of the movie. "I saw Terry recently and he recognized me. So I was like, 'All right, maybe I did make the cut,'" Rhodes told GQ. According to his Instagram, he's also finished work on the Afghan war drama Horse Soldiers with Michael Shannon and Chris Hemsworth. And, as he's been teasing online, the Moonlight star has also started shooting the Predator sequel.
Ashton Sanders (Chiron)
Ashton Sanders will reportedly join Dan Gilroy's new legal thriller Inner City, according to the Tracking Board. The 21-year-old will play a young law school grad opposite Denzel Washington, who will be an attorney jaded by his powerful law firm. Sanders is currently working on Rupert Wyatt's sci-fi thriller Captive State, which co-stars Vera Farmiga and John Goodman.

Janelle Monáe (Teresa)
Janelle Monáe was in two movies in 2016 (Moonlight and Hidden Figures), and both of them were among the years' best. Now, the six-time Grammy nominee is returning to music: She told People she'll have new music out this year.
André Holland (Kevin)
Outside of being your new crush, André Holland will appear in Ava DuVernay's upcoming A Wrinkle in Time. Offscreen, he's in the Broadway production of August Wilson's Jitney.
Alex R. Hibbert (Little)
Twelve-year-old Alex Hibbert wants to cure cancer. "I'm going to take most of my money… Wait, some of my money, and build a lab, and I'm going to take the best scientists to work on curing cancer and stuff like that," he told Hey U Guys. As far as acting, he told the Times he's aiming for a career somewhere between Denzel Washington and Andrew Garfield. "I want to be on The Walking Dead," he also told the Times. "I need to talk to my managers about that."