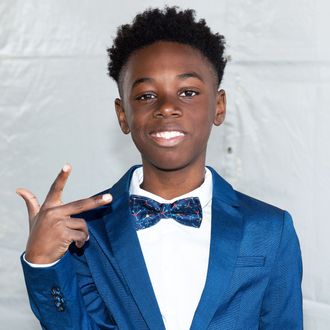 Photo: Amanda Edwards/Getty Images
Because there's never enough time to praise all of Moonlight's cast, let's take a moment to discuss the endearing cuteness of Little, a.k.a. Alex Hibbert. As the youngest iteration of Chiron, the black gay man at the center of the Best Picture–winning movie, Hibbert was disarming. The tween was was thoughtful and soft-spoken, eating up every scene he shared with Mahershala Ali, who played his father figure. In real life, Hibbert is a regular 12-year-old who likes dodgeball, loves all of his castmates, and is certain he is Moonlight's best-dressed star. Let's take a look at his sweetest sound bites.
First, Hibbert on Ali, whom he considers a father figure in real life, too:
"Mahershala is like a dad to me, he tells me to stay humble and to stay focused on what I needed to do. He always gives me hugs and everything," he smiled. The pair shot one memorable scene in particular, of Little being taught how to swim.
Hibbert isn't a businessman — he's a business, man: The Miami middle schooler is now an award-winning actor. He has to miss out on hanging with his cool kid friends because he was work to do!
"My friends aren't jealous, they're just sad I'm not there. I'm like the funny person in class. So they get sad and they're like, 'Why you gotta go?' and I'm like, 'I gotta work.'"
When a New York Times reporter went to a Sky Zone trampoline park with Hibbert and his mom, Donna Wellington, he dished on his dream projects:
He would also like to have an acting career like Denzel Washington, to do action movies like Andrew Garfield and get cast on a popular TV series. "I want to be on 'The Walking Dead,'" he said. "I need to talk to my managers about that."
He also said he really wanted to meet the Silence star (and apparently he later did on the Oscars red carpet).
When asked if there was anyone specifically he'd like to meet, his answer was instantaneous, and evidently required little thought. "The person I really wanna see is Andrew Garfield, because he's like my favorite actor."
Hibbert's only a tween, so he didn't strip down Trevante Rhodes–style for his Calvin Klein photo shoot. But the youngest Moonlight star did have some choice words about his co-stars' style — namely, that he's the best dressed.
When asked who among his very stylish castmates is the most stylish, Alex shrugs. "I am." This makes Mahershala laugh out loud. "He is; it's true."
In a last-minute ceremony shocker, Moonlight really won Best Picture! Hibbert told Miami's local NBC station what it was like to rush up to the stage:
"When they first was like, Moonlight got it, we were like, yeah, nice joke," Hibbert recapped. "But they were like, serious, you guys got it, and all I remember, I jumped over this guy and he was screaming. And I was like, sorry, I just won an award!"
And one last thing, because Hibbert's Instagram is further evidence that he's the coolest kid alive…