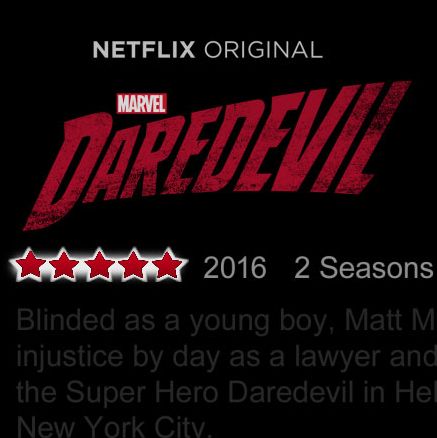 Daredevil has five stars!
On Friday, Netflix announced that it would be doing away with the five-star rating system that has characterized its streaming service since time immemorial. Netflix's president of product, Todd Yellin, told the Verge, "Five stars feels very yesterday"; user activity, he argued, is far more instructive than users' self-reported tastes. (That sound you hear is millions of behavioral psychologists nodding.)
But this news seems significant in light of another Netflix trend: the movement away from licensed TV, film, and comedy toward its own product. Netflix is spending billions of dollars on 1,000 hours of original content this year*, including a stand-up special each week. The stated goal is to reach a 50-50 split between original and licensed content.
Let's consider a new release: Amy Schumer's The Leather Special, which dropped this week. Currently, the special, which got a great review from this very website, has a rating of 2.5 stars on Netflix. At one point, it was even lower. Now, if you're John Doe, surfing the Netflix late at night for a new stand-up special to watch, you might see that rating and not realize it was the concerted work of trolls attacking Schumer. How could you? Instead, you see a bad rating for a piece of content that Netflix spent millions of dollars on.
The ratings system made sense when Netflix was a collection of other creators' programming, and Netflix functioned solely as a vehicle for its delivery. But now that it's a creator itself, the five-star system is like putting negative reviews in its own advertising, and not even being tricky about it like other studios do. Even though plenty of releases have perfect scores, including Stranger Things, Orange Is the New Black, and House of Cards, a dive into the catalog of Netflix Originals reveals that The Leather Special is far from the only one to receive a failing grade:
2.75 stars: Chelsea Handler: Uganda Be Kidding Me, Russell Peters vs. the World, Journey to Greenland, Mercenary, Southcliffe
2.5 stars: Amy Schumer: The Leather Special, Easy, Burning Sands, Between, Nick Offerman: American Ham, Marseille
2.25 stars: Iliza Schlesinger: Confirmed Kills, Chris D'Elia: Incorrigible, Reggie Watts: Spatial, Hannibal Buress: Comedy Camisado
2 stars: David Brent: Life on the Road, Jeff Foxworthy and Larry the Cable Guy: We've Been Thinking, True Memoirs of an International Assassin, David Cross: Making America Great Again!, The Characters
1.75 stars: Haters Back Off, The Ridiculous Six, Special Correspondents, Doug Benson: Doug Dynasty, Coin Heist
1.5 stars: Mascots, Hot Girls Wanted, A Very Murray Christmas, Barry
1.25 stars: XOXO, Chasing Cameron, I Am the Pretty Thing That Lives in the House
1 star: Pacific Heat, Take the 10, Dieter Nuhr: Nuhr in Berlin, Mercy, Rebirth
That's a long list, one that includes its high-profile partnerships with Adam Sandler, well-reviewed film-festival premieres, critically acclaimed formal experiments, and a whole mess of stand-up specials. While only you, in your heart, know how many stars you'd give to any of the titles on this list, it's fair to say that for many of them, these ratings don't reflect their perceived quality outside the Netflix app. And considering that Netflix is the one who spent money on them, it's important for the company to close that gap.
In that sense, ditching the star-rating system should only have a positive effect, for Netflix as well as users who don't know what kind of response that rating actually reflects — not to mention the artists who are seeing their work get unfairly dragged. If Netflix is only going to move further in that direction, a less public-facing expression of approval/disapproval is more practical for reading audience reaction to a release and helping to recommend further content to watch. As for trolls, well, there's always the rest of the internet.
*This post originally misstated how much Netflix is spending on original content.