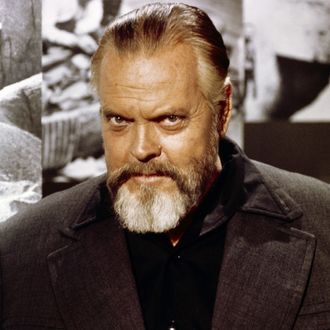 Photo: NBC/NBC via Getty Images
Netflix's latest big-ticket buy is a buzzy festival purchase from a young, up-and-coming director. Just kidding — it's an unfinished Orson Welles movie. Welles never finished his The Other Side of the Wind, an opus that he imagined as a "skewering of avant-garde directors," according to the New York Times, who reported the acquisition. Netflix will finance and distribute the movie, which Welles began working 1970. It will now be finished by Peter Bogdanovich and Amblin Entertainment founder Frank Marshall, two of his early collaborators on the project. The Other Side of the Wind was supposed to be Welles's comeback, a movie that would outdo the success and impact of Citizen Kane. Through the beleaguered production, Welles shot many of the main character's main scenes before he'd even cast a lead actor (he stepped in and cheated the angles). Though the project wasn't autobiographical, it was based in part on his personality and Ernest Hemingway's. Per Vanity Fair:
The movie was the story of a legendary director named Jake Hannaford, who returns to Hollywood from years of semi-exile in Europe with plans to complete work on his own innovative comeback movie—also entitled The Other Side of the Wind.
But wait, there's more:
Welles also planned to make two films and fuse them into one. First, there was Hannaford's movie, which he conceived as an old man's failed attempt to make an arty, sexy, symbolic picture aimed at the younger audiences of New Hollywood. Beautiful, but without a plot or any sense of purpose, the film was Orson's way of taking a shot at Blow-Up director Michelangelo Antonioni, whom he once referred to as "an architect of empty boxes." The footage from this film within the film would be shown to producers and party guests during the other movie Orson was making.

That other film was the story of Hannaford's 70th-birthday party, which is being thrown by a famous golden-era actress (modeled on Orson's friend Marlene Dietrich) as a way of introducing the denizens of New Hollywood to an old master and in hopes that one of them will fund his comeback movie.
After decades of efforts to get the movie finished (the movie's twisty production tale was recorded in Orson Welles's Last Movie), Netflix has agreed to finance and distribute it. "The footage that has been in Paris — eight pallets' worth of reels, packed carefully by archivists — is now in Los Angeles," the Times reports, where Marshall and Bogdanovich (who had an acting role in the film) "will oversee editing based on handwritten notes that Welles left behind and their own memory of the production."