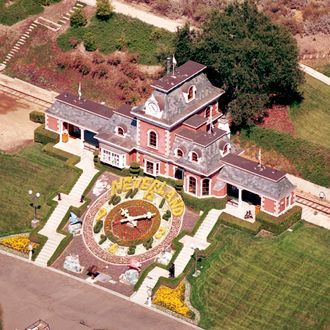 Neverland Ranch in 2001.
Photo: Jason Kirk/Getty Images
Most real-estate agents worth their weight in lawn signs will tell you that the secret to property sales is location, location, location. But some properties carry with them a degree of baggage that no location alone can overcome. Such is the case with Michael Jackson's storied Neverland Ranch. (It's been renamed Sycamore Valley Ranch, but, c'mon.) Originally placed on the market for $100 million, People is now reporting that the property formerly belonging to the King of Pop is back on the market for $67 million. It's a pretty steep drop in price, but $100 million is also a crazy amount of money, even if the listing agent prefers the language, "a difficult number to achieve." It's like the luxury real-estate version of saying "cozy junior one bedroom" when you really mean "tiny studio." So, if you have an extra $67 million lying around in need of a tax shelter, there are 2,700 acres near Santa Barbara that can be yours today.