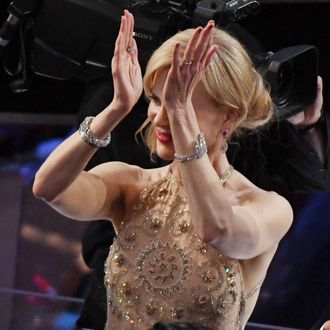 What is the sound of two hands not really clapping?
Photo: MARK RALSTON/AFP/Getty Images
Aside from that whole thing where the wrong movie briefly won Best Picture, the biggest mystery on Oscar night this year involved Nicole Kidman's hands. Specifically, why did they look like that when the actress was trying to clap? Is Nicole Kidman trying to communicate with seals? Did a witch invoke a force field between her fingers?
Luckily, Kidman herself has bravely spoken out, and the answer is sadly mundane. The actress told Australian radio station KIIS FM that she was wearing some very expensive Harry Winston diamond rings, and she did not want to damage them as she clapped. "It was really awkward!" She said. "I was like, 'Gosh, I want to clap, I don't want to not be clapping,' which would be worse, right? 'Why isn't Nicole clapping?'"
"So therefore, I'm clapping but it was really difficult because I had a huge ring on that was not my own so it was absolutely gorgeous and I was terrified of damaging it," She went on, adding later, "It's like, is there not more important things to be focused on than the seal clap?" (There are! Love your performance, but please explain the accent you are using on Big Little Lies, Nicole!)
In an alternate universe, this same post exists, only it explains in a GIF why Nicole is NOT clapping at the Oscars. Celebrity — it's a prison!