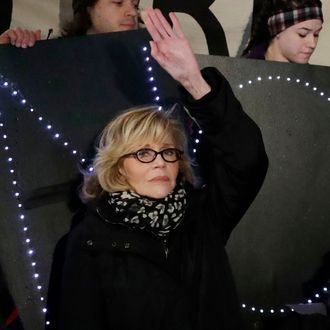 Jane Fonda at a rally with opponents of the Keystone XL and Dakota Access pipelines in New York.
Photo: AFP/AFP/Getty Images
Oh, sure, you and your pals might be getting really into this whole activist, protesting thing in this new Über-􏰀political era, but we guarantee you can't hold a candle to Jane Fonda. Yes, that Jane Fonda, who — before she became the exercise video queen and star of Netflix's charming Grace and Frankie — was an engaged, outspoken political activist, giving talks and joining protests during the Vietnam War and beyond. (In fact, she's still at it; the actress spent her latest birthday, her 79th, joining the protests at Standing Rock.) And if you're looking for the right attire for your next big protest or activist moment, look no further than Fonda herself: As the A.V. Club is reporting, Fonda is now selling T-shirts with her infamous 1970 mug shot screen-printed on them. Fonda was arrested on a return trip from Canada at the height of the Vietnam War based on some "suspicious" pills (vitamins) she was carrying; as she was told at the time, "They said they were getting orders from the White House — that would be the Nixon White House."
Perhaps there is no shirt available right now that better sums up our current political moment, other than one that says "Those Who Do Not Learn From History Are Doomed to Repeat It." Lest you begin to protest (ha!) the sale of shirts by a famous, wealthy woman who is married to a famous, wealthy man (Ted Turner), know that the proceeds from the merch will be donated to the Georgia Campaign for Adolescent Power & Potential, which offers "age-appropriate, medically accurate" sex ed for young people. Take that, America. And yes — you can still buy the exercise tapes, too.