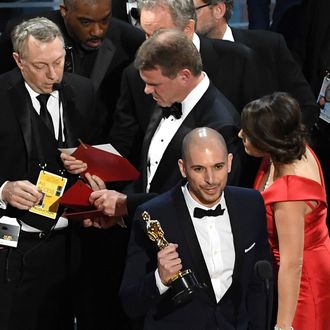 Photo: Kevin Winter/Getty Images
Because the hits just keep on coming: Not only has the Academy barred the two PricewaterhouseCoopers accountants responsible for the Best Picture mix-up from future ceremonies, but the accountants in question — Brian Cullinan and Martha Ruiz — have reportedly gotten a security detail after they received threats in the wake of the fallout. Now, veteran Oscars stage manager Gary Natoli is spilling all the tea: When Warren Beatty and Faye Dunaway erroneously named La La Land Best Picture instead of the actual winner Moonlight, he says Cullinan and Ruiz were stunningly incompetent. Natoli detailed the behind-the-scenes happenings for the Wrap, and his account is dripping with drama:
Natoli broke down what happened next: "I was in the wings stage left with Jimmy [Kimmel] when they announced La La Land. We watched for about 10 more seconds, and during that entire time Martha was no more than five feet away from us. When La La Land was announced, she did not try to get my attention, she did not say anything. And she's supposed to have memorized the winners."
Natoli said he was distracted with work on the night's would-be last gag, involving Matt Damon and Jimmy Kimmel. Then, he got a fateful call on his headseat alerting him that a mistake might have been made:
"As I was taking Matt's wife to the side of the house, I heard John Esposito on my headset say, 'Brian says he didn't think they said the right winner. Can you have Martha check her envelope?' That was the first time I heard anything about it, and it was probably a minute, or a minute and 15 seconds, from the time Faye announced the wrong winner."
So now there's suspicion, drama, and intrigue — this is a real yarn! Natoli was busy with the Damon gag, though, so he asked a collegue to have Ruiz open her envelope and fact-check the announcement.
"She was standing there with the envelope in her hand, very low-key," he said of Ruiz. "And John Esposito said that Brian was very low-key too, no urgency. But we had Martha open the envelope, and it said Moonlight."
In the first few minutes of the confusion, it seemed like Dunaway had just announced the wrong winner, not that Beatty had been handed the wrong envelope. Here's where the stage manager gets really incredulous:
"I still do not understand the delay," Natoli told TheWrap. "Brian should have run out there on his own. Martha should have run out there. I didn't get on the headset and say, 'Hey, producers, this is what's happening. What do we do?' We took our own initiative and got it done — and if we hadn't done that, we could have been off the air before it was fixed. I'm proud of the way that we handled it, given the lack of response from PwC."
And the rest, as they say, is history … and/or a thrilling drama that would make for a good Feud season three: The Academy of Motion Picture Arts and Sciences versus PricewaterhouseCoopers.
Here's the moment the madness went down: