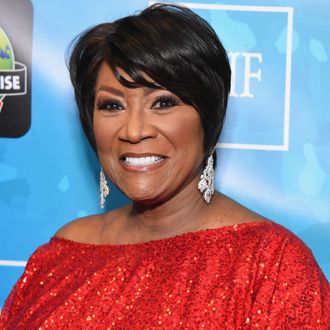 Photo: Araya Diaz/Getty Images for AIDS Healthcare
When Aretha Franklin announced her retirement in February, we at Vulture responded as every other petty soul-music lover would. Aretha's retirement would be a loss for the contingent of black church voices, but — most importantly — what would her retirement mean for her years-long feud with Ms. Patti LaBelle? The two divas have a long history of running in the same church-hat-wearing circles, much to their mutual chagrin. Aretha's retirement signaled an end to one of black history's greatest beefs. Inspired by our deeply important and journalistic ideas of how Patti would respond to Aretha's news, the Kansas City Star inquired about it flat out. And so, for the sake of Black History Month and due diligence, here's what Ms. Patti Patti thinks about Aretha Franklin's upcoming retirement:
Another great legend, Ms. Aretha Franklin, announced she'll retire at the end of the year. How did that news make you feel? Is retirement anywhere on the horizon for Patti LaBelle?
Child, I'm going to be singing with my boots on until I fall down (laughter)! But my girl Aretha, I'm sad to hear that because I love her. And not to be able to see her again live is not so cute. But God bless her because she probably has her own great reasons why she feels it's time for her to retire. But I was just sad to hear it.
Like the juiciest of feuds, the case of Aretha v. Patti is rooted in mutual love, respect, and pettiness. As far as retirement goes, Patti don't play that.