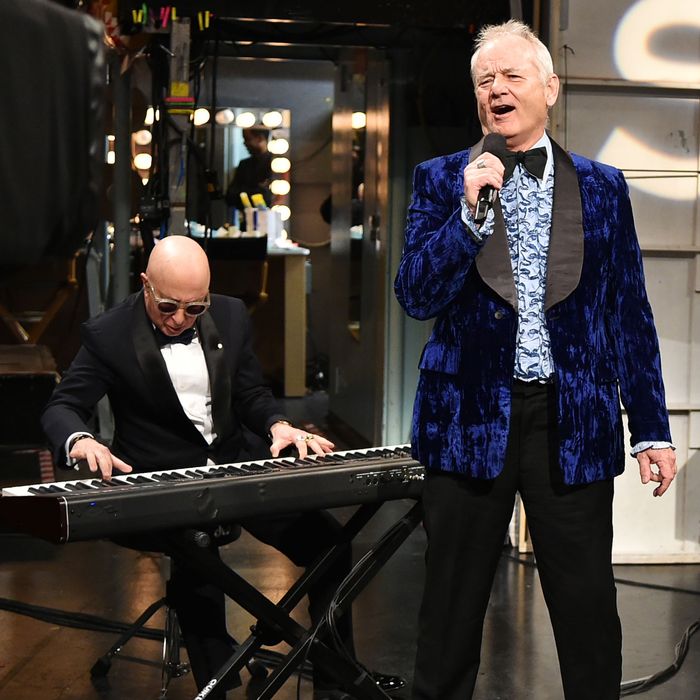 Paul Shaffer and Bill Murray.
Photo: NBC/Getty Images
Even though his main gig was as David Letterman's bandleader for 33 years of late-night TV, Paul Shaffer is one of the music world's true Zeligs: There he was in the Saturday Night Live house band during the show's early years; playing keyboards for Robert Plant's post–Led Zeppelin band the Honeydrippers; acting as musical director for the Rock and Roll Hall of Fame induction ceremonies; co-writing the novelty hit "It's Raining Men"; appearing in Bill Murray's A Very Murray Christmas Netflix holiday special — you get the idea.
After so many years as a sidekick, Shaffer got to stretch his frontman muscles on Paul Shaffer and the World's Most Dangerous Band, a new album out on March 17 and featuring appearances from his friends Jenny Lewis, Darius Rucker, his old pal Murray and others. Those guest spots are proof that even on a solo project, Shaffer's an inveterate spotlight-sharer, and here he shares stories about some of his favorite collaborators.
Bill Murray
"This is how far back I go with Bill: He was one of the first people I met when I got to New York from Toronto in 1974. Brian Doyle-Murray, Bill's older brother, had been in Toronto teaching Second City stuff, and he and I hit it off. And when I came to New York, Brian was already there, working on the National Lampoon Radio Hour doing musical satires, and he said 'You gotta meet my brother, Billy.' So I did, and we hit it off, too. The first thing I did with Billy, even before Saturday Night Live, was a song for National Lampoon called "Kung Fu Christmas" — Kung Fu was big in R&B in those days. That collaboration went really well, so when he got on SNL it was only natural for us to continue working together. He'd come up with musical ideas and I'd help bring them to fruition.
"The idea for Nick the Lounge Singer was an outgrowth of a character he'd done called Shower Mike, which was a guy singing in the lounge style in the shower. Bill had the idea to basically move the guy out of the shower and into a proper lounge. So he assembled a bunch of SNL people to help him write that idea: the late Tom Davis, Marilyn Suzanne Miller, and Dan Aykroyd, who would always appear in the sketches as Jimmy Joe Red Sky. Then I'd help Billy out with the music — he'd give me all the direction; the song choices were always his. There was no telling why he might do something like TLC's 'Waterfalls,' which he did on SNL's 40th anniversary show. Or when he did Bruce Springsteen's 'Badlands.' You know you're not going to get a laugh from the "Badlands" lyrics, because Billy was going to do them straight. But you just know that there's something in the song that he's going to be able to get over. It's all about enabling Billy to do his thing."
The Blues Brothers
"The most exciting to me about this collaboration was when John Belushi and Dan Aykroyd started doing the Blues Brothers and asked me to be their musical director; because those two guys were so hot from Saturday Night Live that all these other wonderful musicians wanted to play with us. Steve Jordan on drums, Sam Moore sang with us, Steve Cropper from Booker T. & the M.G.'s — actually, I remember now that I owe Steve a call. Anyway, we had a really elite band. It was the kind of band Danny and I used to fantasize about back in Toronto. One of the Blues Brothers things that maybe not many people know is how much we idolized a '60s-era singer named Wayne Cochran, who had this wonderful band with the virtuoso Jaco Pastorius on bass. When I got to New York, that was the sort of band I thought I'd see, but which turned out didn't really exist anymore. So when the Blues Brothers got going, it gave Danny and I a chance to put our own version of Wayne Cochran's band together. So it was amazing that our fantasy came true, and gave us the opportunity to play with the musicians we loved."
James Brown
"Speaking of musicians we loved, James Brown was at the top of the list. He was one of the first big names to do Letterman. He wanted to come on the show because he'd heard us playing his stuff going into commercial breaks. There's a James Brown story I wish I'd put in my book: In the mid-'80s, I went with Harry Shearer to Las Vegas to see Siegfried and Roy. Well, it turned out James Brown was in the audience that night as well. After the show, Harry and I got to go back backstage to the dressing room suite at the New Frontier Hotel to witness a sort of private summit meeting between these titans of show business: James Brown and Siegfried and Roy. During it, James took on the role of moderator and started interviewing the two magicians on the subject of spirituality versus science. Then at one point, a trainer came in with a lynx on a leash, really fast. In retrospect, one wonders if that lynx was dangerous. I mean you wouldn't believe that scene. Maybe that's why I didn't put it in the book."
Miles Davis
"Bill Murray was doing Scrooged, and there's a scene in the movie where Billy's character is walking down the street and passes a group of musicians playing for spare change. The music director from the movie studio had the idea that one of the musicians should be Miles Davis. Somehow Miles said yes. Billy called me and told me and I said, 'What?' And he said, 'Yes, I got you an opportunity to play with Miles Davis.'
"I was playing a keyboard in that scene, which goes by so fast that you have to freeze-frame it to even realize who's in it — we're playing 'We Three Kings,' by the way. Even though that scene is only a few seconds, we did cut a full version of the song in the studio for the movie's soundtrack. I mean, getting to go into the studio with Miles was incredible. He completely took over the session and started arranging the material. We were working from the sheet music for 'We Three Kings' and he looked at it and told us we'd do it in waltz time and then move to a funk section and then go back and forth between the two. The crazy thing is that I was playing synth bass and Miles was really zeroing in on what I was doing. That's when he unlocked the key to his spacey Jack Johnson, Bitches Brew style of jazz for me. He told me not to play the root note of the chords on the bass. He said I could play around it or suggest it, but I couldn't play the root. Once you learn that, you understand the secret to the music he made during the second half of his career and why it sounds so free-form. Anyway, when we were finishing the session, Miles said to me, 'We could do this one on Letterman.' Not long after, he came on the show and we did 'We Three Kings.' Working with him was a million-dollar music lesson for me."
David Letterman
"Dave was more musical than one would think. He registered every note I played during the 33 years we were on the air. He was always very encouraging, but the one thing he hated was novelty music. I always wanted to have Bobby "Boris" Pickett on to play 'Monster Mash' and Dave would never go for it. That just wasn't gonna happen on his show. But there was one wonderful place where our tastes intersected in this area: I was playing in Ellie Greenwich's [1984] Leader of the Pack musical at the Bottom Line in New York. Dave came to see it because I was performing in it every night after doing Late Night. And when he came, he was knocked out by Darlene Love doing 'Christmas (Baby Please Come Home).' So we invited her to do it on the show, and it became an annual tradition. She absolutely killed it every year."